TOKYO, Nov 23, 2009 (AFP) - Health ministers from Japan, China and South Korea agreed Monday to step up efforts to ensure food safety following concerns over pesticide-tainted Chinese-made dumplings.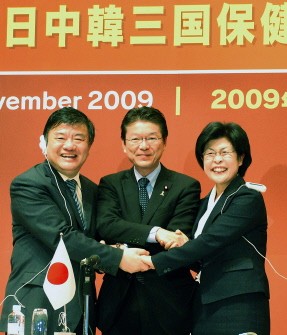 Health ministers from China, Chen Zhu (L), Japan, Akira Nagatsuma (C) and South Korea Jeon Jae-Hee (R) join hands as they hold a meeting in Tokyo on November 23, 2009 (AFP photo)
Japanese Health Minister Akira Nagatsuma, his Chinese counterpart Chen Zhu and South Korean health chief Jeon Jae-Hee signed their first joint memorandum on food safety after a meeting in Tokyo, a statement said.
The move came as Tokyo seeks further investigation by Beijing authorities over pesticide-tainted Chinese-made frozen dumplings, which made 10 people ill in Japan in January 2008.
"The food was highly possibly poisoned in China," Nagatsuma said in the meeting. "Japan hopes China deals with the case in a sincere manner."
Japanese Prime Minister Yukio Hatoyama advocates better ties with China but has also repeated since taking office in September that concerns over the safety of imported Chinese food were an "obstacle" between the nations.
Under the memorandum, the three nations agreed to immediately notify each other if a food safety problem surfaces and to clarify the process of investigation, the statement said.
The three health ministers also issued a joint statement in which they agreed to step up cooperation in the fight against swine flu.