For those who are seeking an innovative way of playing with their toys, a Japan company is offering a helicopter that responds to voice commands.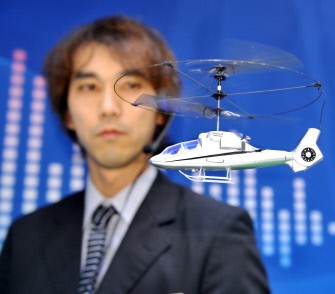 Japan's radio control toy maker Taiyo employee displays the new voice controled helicopter toy New Hornet in Tokyo on 14 January, 2009. (AFP Photo)
Taiyo Co. Ltd. unveiled the helicopter at a Tokyo toy forum Wednesday with sales starting in late March.
"Radio-control toys haven't changed for long time. We thought it would be fun to give vocal commands instead of hand operations," marketing official Naoaki Koide said.
The company aims to achieve annual sales of more than 100,000 units, targeting middle-aged men who would play with the toy with their children.
The voice-command helicopter will be priced at 5,229 yen (58 dollars) in Japan. The toy, which responds to both Japanese and English, will be launched in Asia, North America and Europe.
The user wears a headset to give five commands -- "start engine," "up," "hold," "down" and "stop."
Voices are picked up by the microphone and transmitted to a microchip-equipped controller box, which radios the signal to the toy. The toy also comes with a conventional remote control.
The battery-charged toy is 18 centimetres (7.2 inches) long and can fly as far as 10 metres (33 feet) away from the operator.