TOKYO (AFP) – Japan's consumer prices continued to slide in December, marking the 22nd straight monthly decline as the economy remained mired in deflation, government data showed Friday.
However the rate of decline eased slightly from the previous month, supporting the Bank of Japan's view that the country will return to inflation in the fiscal year starting in April.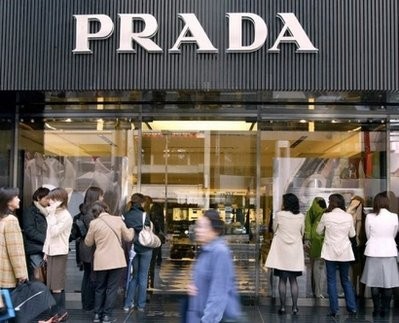 AFP file photo shows Japanese customers in front of a Prada shop in Tokyo's Ginza shopping district.
The BoJ has left its key rate near zero in an ongoing battle with falling prices, which prompt consumers to defer purchase decisions therefore clouding the outlook for corporate investment and dragging on Japanese growth.
Japan's core consumer price index, excluding volatile food items, fell 0.4 percent in December on-year, slightly better than market expectations of a 0.5 percent fall according to a Dow Jones Newswires poll of analysts.
Prices fell by 0.5 percent in November.
For 2010, Japan's core consumer prices fell 1.0 percent from 2009, the government said.
The core CPI for the Tokyo metropolitan area, considered a leading indicator of national trends, fell 0.2 percent in January from a year earlier, government data showed, compared to a 0.4 percent fall the previous month.
Such declines in the rate of price falls lend further weight to the BoJ's forecast that consumer prices will rise 0.3 percent in the financial year starting in April, helped by higher commodity prices.
The central bank is currently weighing the impact of a monetary easing programme that includes a five trillion yen ($60 billion) asset purchase scheme in an effort to boost liquidity.
Japan's deflationary quagmire was a factor listed by ratings agency Standard & Poor's in its downgrade of the nation's credit rating as it cited the government's lack of a "coherent strategy" to address a huge debt burden.
Its credit rating was downgraded one notch to AA minus from AA, putting Japan on par with China.
In brighter data, Japan's unemployment rate fell below 5.0 percent for the first time in 10 months in December to 4.9 percent, improving 0.2 points from the previous month.
For the year, the jobless rate was flat at an average of 5.1 percent.
But household consumption, a key indicator of domestic demand, plunged 3.3 percent in December compared to the same period a year ago, missing expectations of a 0.6 percent decline.