Experts are cautiously optimistic that the still-brittle global economy can absorb the shock of Japan's triple disaster, but major risks still loom as the crisis unfolds.
As Japan has been ravaged by an earthquake, tsunami and nuclear emergency, economists have appeared confident the world's third largest economy will bounce back and that damage to the global economy will be limited.
Many, like Nariman Behravesh, an economist at US-based IHS, predicts a "large, but -- probably -- temporary impact on the Japanese economy," and a "small impact on the rest of the world."
Using previous catastrophes like the 1995 Kobe earthquake as a reference, they expect quake-struck businesses to eventually reopen.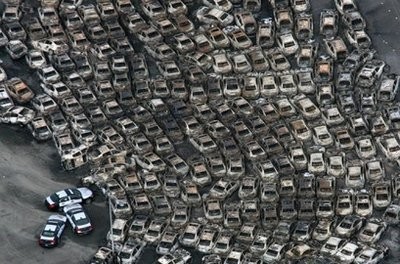 As Japan has been ravaged by an earthquake, tsunami and nuclear emergency, economists have appeared confident the world's third largest economy will bounce back and that damage to the global economy will be limited
Meanwhile tens of billions of dollars will be spent rebuilding homes, factories and infrastructure, sparking a recovery boom.
That process, they hope, will be replicated in Japan's links with the world.
"Japan's most important trading partners -- Australia, China -- will see both the most important near-term drag, and the largest medium-term benefit," said Societe Generale's Michala Marcussen.
The prospect of quick economic recovery will be little consolation for the millions whose lives have been turned upside down by the disaster, but will offer some solace for those across the globe who are already worried by high unemployment and rising prices.
But as the crisis rumbles on, there are increasing warnings about how spillovers could be felt by consumers and economies across the globe, even without a catastrophic nuclear meltdown.
The most immediate problems are being felt in the manufacturing sector.
Japan has long ceased to be the world's factory -- surpassed by China, Indonesia and a host of other emerging countries -- but it is still a crucial part of the global supply chain for everything from cars and computer parts.
With 11 nuclear plants shuttered and blackouts predicted until the end of April, a slowdown in Japanese production could quickly turn into a manufacturing bottleneck.
"People will be surprised by how fast prices will rise," Jesse Toprak, an auto analyst with TrueCar.com told AFP.
Toprak predicted that shuttered production could push up the cost of Japanese cars by around $1,000 dollars for some US-sold models by next week, as dealers cut discounts in the face dwindling supply.
"A lot of this inventory won't last more than a few weeks, if that," Toprak said, citing already high demand for fuel-efficient Japanese vehicles like the Toyota Prius.
Meanwhile production on non-Japanese cars could be slowed by a parts shortage.
"Most vehicles that are made the United States have at least one component if not more that comes from Japan," he said.
Rising oil prices are seen as another conduit for the crisis spreading.
Although crude costs have fluctuated in recent days as traders weighted lower short-term demand in Japan, a protracted nuclear crisis could raise demand for oil.
On Wednesday oil prices rose by 80 cents a barrel in New York and $2.10 in London, although tension in the Middle East and North Africa also played a role.
"An oil price shock would lower (global) growth substantially, but probably not cause an outright recession," said analysts at Swiss Re.
Policymakers, still chastened by the recent economic downturn, are also focused on preventing fallout in the financial markets -- a now familiar conduit for crises.
Japan's central bank has pumped $62 billion into the economy, while the Federal Reserve continued to unfurl a $600 billion in stimulus spending despite a rosier economic outlook at home.
When the yen hit a post-war high against the dollar on Wednesday, speculation raged that central banks could intervene to stop a crippling rise in the price of Japan's exports.
Still, the major stock markets -- a quick and quantifiable, if frequently imperfect, barometer of the crisis -- have fallen sharply in the last few days.
Among other concerns, traders worry that Japanese investors could repatriate cash to Japan, destabilizing markets from Brazil and the United States.
Japanese investors have poured cash into Latin America's largest markets, with retail investors estimated to hold around $35 billion in assets in Brazil alone.
US bond holders meanwhile have fretted that Japan -- the second largest holder of US debt -- might trim back its $886 billion holdings to pay for rebuilding costs.
Any decision to sell US bonds could force the price of borrowing up for the already cash-strapped United States, bring the country a step closer to a fully blown fiscal crisis.
For now few economists are making bold predictions about how events will develop without significant caveats.
"It is still too early to tell what the full impact of the March 11 earthquake, tsunami and growing nuclear crisis on Japan's infrastructure, industrial base and economic growth will be -- let alone the broader global impacts," said Behravesh of IHS.