Japanese warships have set sail to join an anti-piracy mission off Somalia in which the nation's armed forces could face combat abroad for the first time since World War II.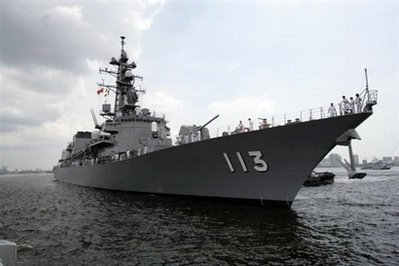 Japan's 4,650-tonne destroyer Sazanami is seen at the Chinese port of Zhanjiang, in June 2008. (AFP/Xinhua Photo)
Around 100 peace activists gathered to protest the mission as the two destroyers left the western naval port of Kure near the city of Hiroshima, which suffered an atomic bomb attack in 1945.
The warships, each with 200 crew and carrying two patrol helicopters and two speedboats, will sail for the Gulf of Aden on a mission to protect cargo ships near the Suez Canal, which links Europe with Asia.
Under a pacifist constitution, which Japan adopted after World War II, the mission will only allow its soldiers to use force for self defence and to protect Japanese interests, defined as its nationals, ships and cargo.
The Japanese government is preparing a new law that would widen the scope of force its military personnel can use against pirates and allow them to protect foreign vessels and nationals as well as Japanese.
The United States, European countries and Japan's regional rival China have already deployed naval vessels to fend off pirates behind more than 100 attacks on ships last year in one of the world's busiest shipping lanes.
The maritime mission has divided public opinion in Japan, where any military mission sent overseas is considered controversial under the post-war constitution.
A handful of activists boarded a speedboat to protest the departure of the warships, the 4,650-tonne Sazanami and 4,550-tonne Samidare.
"The mission may encounter a scene where Japanese servicemen are forced to employ military force," said activist Hideki Nitta. "We are concerned because we did promise from here in Hiroshima that Japan will never commit a war."
Japan's major past overseas missions -- including in Iraq, near Afghanistan, and as UN peacekeepers -- have been largely for logistical and support purposes such as refuelling, transport and reconstruction.
Since World War II, the Japanese troops -- which the pacifist nation calls the Self-Defence Forces -- "have never been shot at with bullets or shot bullets" in combat, according to a defence ministry official.
If Japanese personnel fired at pirates on the high seas, it would be the first time in an overseas mission since the war.
The ships are expected to arrive in waters near the Suez canal in two to three weeks.
Around 2,000 Japanese ships -- including tankers carrying vital oil shipments from the Middle East -- sail through Somali waters and the Suez canal every year.
The nation's shipping industry has voiced alarm over the potential cost of adopting safer but longer routes around Africa.