TOKYO, Jan 1, 2010 (AFP) - Japanese Emperor Akihito used his New Year statement on Friday to express sympathy with those caught up in the effects of Japan's worst recession in decades.
"Last year, many people faced hardships due to the continuing severe economic conditions, and my heart goes out to them," the 76-year-old emperor said in an English-language edition of his "New Year thoughts."
"In this new year that we are greeting, I hope that everyone will help one another and support each other to overcome the challenges they are facing."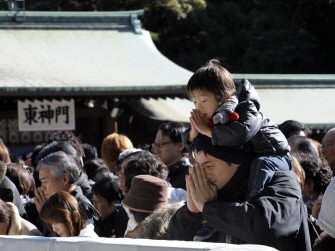 A boy sits on an adult's shoulders as they pray during a visit to Meiji shrine in Tokyo on January 1, 2010 to mark New Year's Day. (AFP photo)
In 2009 Japan's economy spiralled downwards, forcing employers to cut jobs as consumers kept a tight grip on their purse strings.
Japan's royal family is set to cost taxpayers around 17.7 billion yen (205 million dollars) in the financial year to March.
A figure for the family's personal wealth was not readily available.