Japanese Emperor Akihito turned 75 on Tuesday, pledging to work for the betterment of the imperial family as his worries about the state of the world's oldest monarchy inflict a toll on his own health.
Akihito, recovering from illness, was seen in public for the first time in about two weeks as he greeted some 18,000 well-wishers in three appearances at the Imperial Palace.
"I have caused you all to worry since my health declined recently. But I believe I will recover gradually," he said from a balcony, flanked by Empress Michiko, Crown Prince Naruhito, his wife Masako and other family members.
"I am concerned that many people are facing a difficult year end with many problems in the midst of a difficult economic situation," he said as well-wishers waved national flags and shouted "Banzai!" signifying longevity.
The eldest son of wartime emperor Hirohito, Akihito next year marks 20 years on the Chrysanthemum Throne. He cancelled his customary birthday news conference due to poor health.
Akihito, who underwent prostate cancer surgery in 2003, has suffered an irregular pulse in recent weeks and doctors also said this month that they had found traces of bleeding in his stomach, partly due to stress.
The palace said Monday that part of the ceremonies for his birthday celebration would be cancelled as he had also caught a cold.
In a statement in lieu of a press conference, Akihito said he was recovering and that it pained him that "matters concerning my and my family's health have been worrying people."
"I would like to continue to make efforts for the sake of the country and people and in search of a better form of the imperial household, while taking the advice of doctors," he said.
In an unusually open remark, Imperial Household Agency chief Shingo Haketa said this month that the emperor had seemed "worried for the past several years about the future imperial line."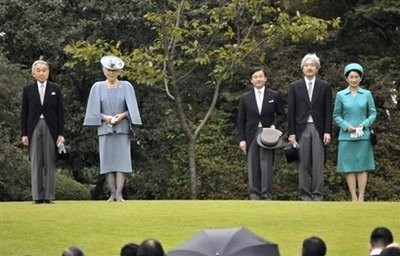 Japanese Emperor Akihito (L), Empress Michiko (2nd L), Crown Prince Naruhito (C), Prince Akishino (2nd R) and Princess Kiko.
Crown Princess Masako
, spouse of Crown Prince Naruhito, has skipped most public duties since late 2003 as the former career woman struggles to adjust to the tradition-bound palace.
"Since the crown princess is now sick, it is natural that all members of the family support her," the emperor said in the birthday remarks.
"I and the empress wish to help the crown prince and princess, who will assume a heavy position in the future," he said of the future emperor and empress.
Crown Prince Naruhito in 2004 took the rare step of talking about Masako's hardship, saying "there were developments that denied Princess Masako's career ... as well as her personality driven by her career."
The prince declined to elaborate further but experts on royal matters translated the remark as suggesting palace minders stifled the US-educated Masako, who left a promising career as a diplomat to enter the imperial family.
Haketa said on December 11 that the emperor and empress "seemed deeply hurt" by speculation that the imperial household itself is causing stress to the princess.