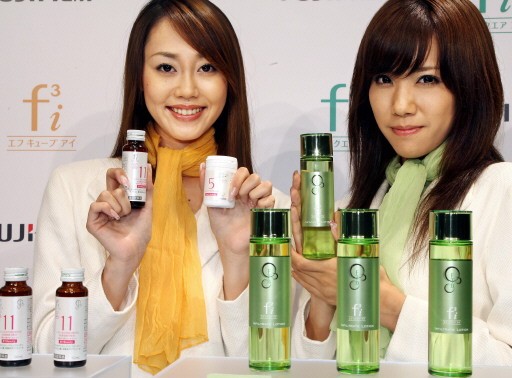 Models display Japanese camera giant Fuji Photo Film's new products the f2i (f-squared-i) series of three skin care items (R, green bottles) and the f3i (f-cubed-i) series of nine dietary supplements in Tokyo, September 12, 2006.
Japan's current account surplus in July beat forecasts as growing returns on overseas investments helped offset rising oil costs while the labor market showed more signs of improving, official data showed Wednesday.
But it was not all good news as Japan confirmed a sharp drop in industrial output in July. Earlier in the week, the government also reported a much bigger than expected fall in machinery orders for July, sparking concerns that crucial corporate capital spending might be in trouble.
The current account surplus in July rose 7.1 percent year-on-year to 1.81 trillion yen (15.4 billion dollars), beating average market forecasts for 1.78 trillion yen, the finance ministry said.
The income account posted a surplus of 1.22 trillion yen for the month, the fifth largest on record and up 23.5 percent from July 2005.
"We are seeing rising income from direct (overseas) investments, such as foreign subsidiaries and overseas branches of Japanese companies," said a ministry official.
"We are also seeing rising income from foreign securities investments. Roughly 90 percent of the income from this category is the return on bonds and debt products," he said.
"We believe this trend is a reflection of how Japanese firms and investors are benefitting from strong overseas economies. We expect this trend to continue for the time being," he added.
Historically, Japan has run a large surplus in its current account, which measures the flow of goods, services and investment income.
Recently, however, high oil prices have pushed up the import bill for Japan, which has to buy most of its energy supply from the Middle East.
Yuji Kameoka, senior economist at Daiwa Institute of Research, said the proceeds from the income account continued to drive the figures even as the trade account deteriorated under pressure from higher cost oil imports.
"This is because Japan's assets overseas have been growing due to increased direct investments and securities," he said.
The trade surplus in July fell 8.5 percent year-on-year to 950.9 billion yen, with imports jumping 19 percent to 5.06 trillion, the ministry said.
The value of oil imports alone rose 24.8 percent, with oil products up 72.7 percent, it said, putting the average crude oil price at 67.92 dollars a barrel in July, up 27.5 percent.
Exports rose 13.6 percent to 6.02 trillion yen.
Meanwhile the labor ministry gave an upbeat assessment, saying more jobs were available for high school graduates for the first time since 1997.
The ratio of job offers to every 100 job seekers rose to 1.14 up 0.24 points from a year ago, the labor ministry said in a report.
On the downside, the trade ministry that industrial output unexpectedly fell 0.9 percent in July even though it maintained its upbeat outlook, saying, "Broadly speaking, production is on a rising trend."
Source: AFP