Japanese consumers may have to help foot the reconstruction bill after last month's earthquake and tsunami caused $300 billion of damage, further burdening a hugely indebted economy, a newspaper said on Tuesday.
The government is considering raising the sales tax by 3 percentage points to 8 percent when the new fiscal year starts next April, the Yomiuri newspaper said on Tuesday.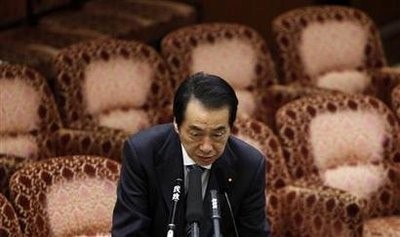 Japan's Prime Minister Naoto Kan speaks in front of empty chairs during a budget committee at the upper house of parliament in Tokyo April 18, 2011
It would be the first increase since 1997, though Japanese politicians have frequently debated such a move as a way of digging Japan out of its massive debt before the earthquake struck.
"It was clear even before this disaster and the need to secure funds for reconstruction that to ensure a sustainable fiscal situation, some sort of reform of spending and revenues was necessary," said Internal Affairs Minister Yoshiro Katayama.
"The debate over the fiscal situation is not something that began with this disaster."
The government hopes to avoid issuing new bonds to fund an initial emergency budget, expected to be worth about 4 trillion yen ($48 billion), due to be compiled this month.
But bond issuance is likely for subsequent extra budgets and markets are worried that post-quake rebuilding may hamper Japan's efforts to rein in its debt, running at twice the size of the $5 trillion economy.
Japan must convey the message that it will continue to stick to fiscal discipline, Finance Minister Yoshihiko Noda said on Tuesday.
The Yomiuri said the government had decided against raising income and corporate taxes.
"I am aware that the Democratic Party is considering various methods, including this (tax rise). But the government is not considering any specific funding methods at this stage," top government spokesman Yukio Edano told a news conference.
Katsuya Okada, secretary-general of the ruling Democratic Party (DPJ), said on Sunday Japan must raise taxes to repay new government bonds that will be needed to pay for reconstruction.
A poll by the Nikkei business daily showed on Monday about 70 percent of Japanese voters would approve of a tax hike to help with the rebuilding, but they want unpopular Prime Minister Naoto Kan to be replaced.
"No matter who is in charge, they will need to raise taxes and issue more bonds, but in two stages," said Yasunori Sone, a Keio University political science professor, suggesting a tax rise will come later than bond issuance.
IMPACT OF NUCLEAR CRISIS
As well as trying to deal with the consequences of quake and tsunami which killed at least 13,000 and left tens of thousands homeless, Japan is struggling to control the Fukushima Daiichi nuclear power plant that began leaking radiation when it was damaged by the natural disasters.
Engineers were forced to start pumping low-level radioactive water into the Pacific last month, a move that worried Japan's neighbors, and which was only recently stopped.
On Tuesday, plant operator Tokyo Electric Power (TEPCO) said it had starting removing highly contaminated water from one of the reactors, a long-awaited development and a key step toward repairing the cooling system that regulates the temperature of radioactive fuel rods.
TEPCO wants to achieve a "cold shutdown" of the plant in six to nine months, it said on Sunday, setting a timeframe for bringing the world's worst nuclear crisis in 25 years under control.
Tokyo Electric said it planned to cool reactors and spent fuel at the nuclear plant to a stable level and get radiation leaks on a downward trend within three months.
The damage to Fukushima Daiichi, and the shutdown of other nuclear power plants, has caused power outages that exacerbate the disruption to manufacturing supply chains and overall economic activity.
Cellphone venture Sony Ericsson is expected to shed light on the size of the earthquake's impact on the cellphone industry when it unveils its January-March earnings later on Tuesday. The firm said in early April the quake was limiting volumes in its new smartphone offerings.
Chip maker Texas Instruments warned of slower-than-usual quarterly sales growth as it scrambles to restart production after the earthquake, and said it was unclear when the supply of the silicon and wafers it needs will return to normal.
Japanese corporate confidence plunged by a record amount in April and is seen worsening further, a Reuters poll showed last week.