Japan's economy faces three years of deflation as it claws back from its worst slump in decades, the central bank warned Friday, even as it moved to end some of its recession-busting measures.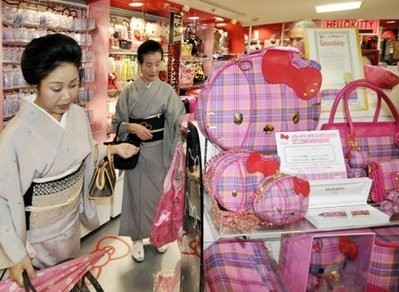 Customers dressed in traditional kimonos look at Hello Kitty character goods as they look at the world's largest Sanrio character goods shop upon its opening in Tokyo on October 29. (AFP Photo)
The Bank of Japan painted a slightly more optimistic picture of the outlook for economic growth in a twice-yearly report, but warned that prices would keep falling until at least the year to March 2012.
"Japan's economy has started to pick up, and in the second half of fiscal 2009 it is likely to improve gradually on the back of improvements in overseas economies as well as the effects of economic policy measures," it said.
But the pace of recovery is likely to remain "moderate" until late 2010 because it will take time for the global economy to rebound and the effect of pump-priming stimulus measures will wane, it added.
The world's second-largest economy is set to shrink 3.2 percent in the current financial year to March 2010 before rebounding by 1.2 percent next year and 2.1 percent the following year, the Bank of Japan predicted.
Consumer prices are expected to fall 1.5 percent in the current financial year, followed by a further decline of 0.8 percent next year and 0.4 percent the following year, the BoJ said.
The Bank of Japan said it was a "critical issue" whether the decline in prices results in a deflationary spiral that depresses economic activity.
But with the pace of deflation expected to gradually slow, that appears unlikely to happen, it added.
Earlier in the day the central bank announced that it would end some of its emergency measures to fight the financial crisis at the end of the year as Asia's biggest economy emerges from a deep recession.
The BoJ has been tackling the credit crunch with super-low lending rates and other steps to support struggling companies, such as purchases of corporate debt, which will finish at the end of December.
Japan was stuck in a deflationary spiral for years after its asset price bubble burst in the early 1990s, hitting corporate earnings and prompting consumers to put off purchases in the hope of further price drops.
The current global economic downturn and a slump in commodity costs pushed the country back into the deflationary doldrums.
Core consumer prices have now fallen year-on-year for the past seven months, although the pace of decline eased to 2.3 percent in September, after a record 2.4 percent slump in August, the government reported Friday.