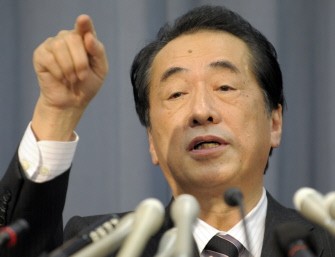 Newly appointed Japanese Finance Minister Naoto Kan at a press conference at the finance ministry in Tokyo on January 7, 2010 (AFP photo)
TOKYO, Jan 8, 2010 (AFP) - Japan's new finance minister hinted Friday at possible intervention to sell the yen as Tokyo toughened its stance against a strong currency, which has prompted fears for the export-dependent economy.
Naoto Kan said that as finance minister, it was his duty "to take action on foreign exchange when necessary."
He added, however, that currency rates should in general be decided by market fundamentals.
Kan's remarks came a day after he spooked markets with a call for a weaker yen, prompting a thinly veiled rebuke from Prime Minister Yukio Hatoyama, who warned him not to publicly comment on currency levels.
"The government basically should not discuss foreign exchange," Hatoyama told reporters. "Regarding foreign exchange, stability is desirable."
Kan, a former health minister with little experience in financial matters, said that he agreed "in principle" with Hatoyama's comments.
The dollar rose to 93.35 yen in Tokyo afternoon trade, up from 93.25 in New York late on Thursday.
The finance minister's call Thursday for a further decline in the value of the yen caused the currency to drop sharply on the foreign exchange market.
Kan, 63, said he would work with the central bank to steer the yen to an appropriate level, in a break from his predecessor's tolerance of a stronger currency.
His remarks sparked speculation that Tokyo might act to sell the yen, although Japan has not made an official foray into the currency market since March 2004, allowing the yen to find its own level against the dollar.
"Kan's stance on the yen contrasts sharply with his predecessor's often confusing view and suggests that the official view is shifting more towards yen weakness," said Calyon currency analysts Mitul Kotecha.
Kan's predecessor Hirohisa Fujii, who stepped down for health reasons, had repeatedly said while in the job that in principle Tokyo should refrain from market intervention to weaken the yen and protect exporters.
In November the dollar fell to around 85 yen, its lowest level since the mid-1990s, raising fears that Japanese exporters such as Toyota and Sony would lose competitiveness in overseas markets.
Japan's economy, the second largest in the world, is heavily dependent on exports to drive its growth. A collapse in overseas demand during the recent global economic slowdown pushed Japan into its worst recession in decades.
The new finance chief faces the tricky task of reviving Asia's biggest economy while also keeping the soaring national debt under control.
"The challenges facing Kan are profound," said Glenn Maguire, chief Asia economist at Societe Generale in Hong Kong, noting that Japan's bond issuance has now topped its total tax revenues.
"This is clearly a loudly ringing alarm bell on the long-questioned sustainability of Japan's fiscal position," he warned.