SEOUL, Jan 13, 2011 (AFP) - Japanese Foreign Minister Seiji Maehara's visit this week to South Korea has been delayed for a day because of domestic issues in Tokyo, Seoul's foreign ministry said Thursday.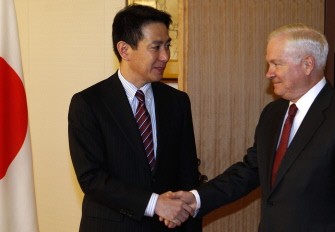 US Secretary of Defense Robert Gates (R) meets with Japan's Foreign Minister Maehara Seiji (L) at the Ministry of Foreign Affairs in Tokyo on January 13, 2011. Gates was due to meet Japanese leaders to try to forge a common strategy towards North Korea. AFP
Maehara, who had been scheduled to visit Seoul from Friday to Saturday, called his counterpart Kim Sung-Hwan to say his trip would be shortened to a day-long visit on Saturday, the ministry said in a statement.

Kim accepted the change, it said.
Maehara was expected to meet Kim as well as the unification and defence ministers, and pay a courtesy call on President Lee Myung-Bak.
The Japanese minister is travelling to South Korea for the first time since taking office last September.
Maehara's visit comes as the two neighbours seek closer diplomatic and military ties against North Korea.

The defence chiefs of South Korea and Japan met in Seoul this week and agreed to enhance military cooperation and to push for talks on forging their first military accord.