Japan announced Saturday it would donate two million dollars for a centre to keep the legal records of Cambodia's UN-backed Khmer Rouge court.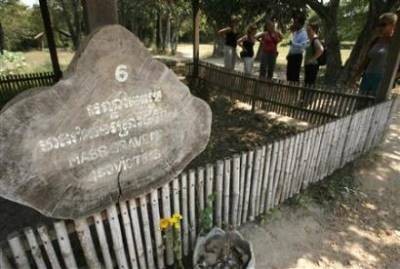 A gravestone at a collective tomb of Khmer Rough regime's victims in Toul Sleng prison
The documentation centre will store the public records of the tribunal, which a month ago heard final arguments in its first war crimes trial -- that of former Khmer Rouge prison chief Kaing Guek Eav, better known as Duch.
"The legal documentation centre will keep the outcome of the tribunal for the Cambodian society... and will serve as a token of remembrance and non-recurrence of the Khmer Rouge regime," the embassy statement said.
The funds would also support the building of another legal centre where Cambodian lawyers can "conduct legal activities on behalf of the socially vulnerable," it said.
Japan is the Khmer Rouge court's biggest donor.
Led by Pol Pot, who died in 1998, the Khmer Rouge emptied Cambodia's cities in a bid to forge a communist utopia, killing people through starvation, overwork, torture and execution.
Up to two million people died as a result of the brutal 1975-1979 regime.