TOKYO, April 25, 2011 (AFP) - Japan launched a massive search Monday using 25,000 troops to scour its tsunami-ravaged northeast coast for thousands of bodies still missing more than six weeks after the disaster struck.
Dozens of aircraft and ships were deployed along with police, coastguard officers and some US forces for the recovery mission, the third of its kind after earlier sweeps discovered a total of 438 bodies.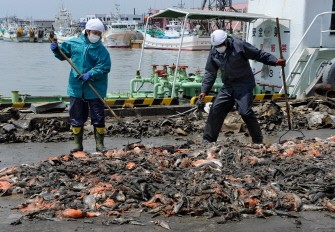 AFP - Fishery employees remove cardboad boxes and plastic bags before disposing of rotten fish in the ocean at Ishinomaki fishing port in Ishinomaki, Miyagi prefecture, on April 25, 2011.
By late afternoon, 38 corpses had been found in the search which was to continue Tuesday, a defence ministry spokesman said.
Public broadcaster NHK showed Japanese soldiers wearing goggles and facemasks as they probed mounds of twisted wreckage where houses once stood.
"The debris is folded in layers so it's hard to clear," one officer said.
Hundreds of troops and firefighters combed through the rubble of an elementary school in Miyagi prefecture looking for the bodies of 74 missing children, NHK said.
A total of 14,340 people were killed in the March 11 quake and subsequent tsunami, and 11,889 are officially missing. There are fears that many of those swept into the Pacific Ocean will never be found.
Local officials meanwhile entered the 20-kilometre (12-mile) no-go zone around the stricken Fukushima nuclear plant to assess whether the thousands of cattle and other livestock abandoned in the no-man's-land must be culled.
"This is the first time we are going inside the 20-kilometre zone," a veterinarian told NHK.
"If we see dead cattle, we might take stop-gap measures, like pouring lime powder over them," he said near the evacuation zone, where 370 farms operated before the crisis, with 4,000 cows, 30,000 pigs and 630,000 chickens.
Radiation has leaked into the air, soil and ocean from the plant, leading to bans on some regional farm produce -- the latest on shiitake mushrooms from a nearby town that were found to have radiation levels twice the legal limit.
The disaster's political and economic implications continued to ripple, as Prime Minister Naoto Kan came under renewed pressure over his crisis management and automakers reported huge production shortfalls for March.
Toyota, the world's biggest automaker, said March output in Japan plunged 62.7 percent year-on-year, while Nissan suffered a 52.4 percent domestic decline and Honda Motor a 62.9 percent fall.
Ratings agency Standard and Poor's revised its outlook for all three of them, and of three parts suppliers, from stable to negative.
As halting recovery efforts continued after Japan's worst post-war disaster, Shinkansen bullet train services resumed between Tokyo and the coastal city of Sendai, one of the areas worst hit by the tsunami.
However, blackouts in the afternoon interrupted some services.
In parliament, embattled Premier Kan faced new pressure over the nuclear disaster triggered when the tsunami knocked out cooling systems -- the world's worst atomic crisis since Chernobyl, which hit 25 years ago on Tuesday.
Kan was battling rock-bottom approval ratings in the weeks before the quake, and his centre-left Democratic Party of Japan (DPJ) took another beating in a string of weekend local elections.
A candidate for the opposition conservative Liberal Democratic Party won Sunday's lower house by-election in central Aichi prefecture, beating four rivals after Kan's DPJ failed even to contest the seat.
Candidates backed by the DPJ also broadly lost ground in the second round of local elections held Sunday, following the party's defeat in gubernatorial and prefectural assembly polls earlier this month.
Kan acknowledged the poll results but brushed aside criticism.
"The tough election outcome has to be taken seriously," Kan told an upper house budget committee meeting. "The government will continue to make an all-out effort to tackle reconstruction and the nuclear disaster."