A key Japanese government minister has viewed Russian-held islands lying off northern Japan over the weekend to reassert Tokyo's claims to the disputed chain now back in the diplomatic spotlight.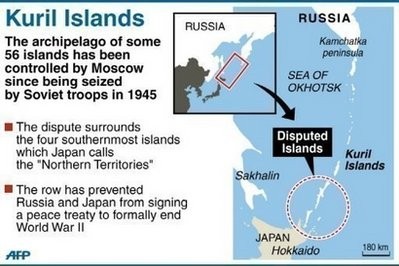 The disputed Kuril Islands. President Dmitry Medvedev has ordered the deployment of additional weaponry on the Kuril islands claimed by Japan, adding Russia needed to expand its presence on an inseparable part of its territory

Chief Cabinet Secretary Yukio Edano, the top spokesman for Prime Minister Naoto Kan's government, toured a cape on the eastern tip of Japan's Hokkaido Island Sunday to observe one of the disputed islands, local officials said.
Edano, who also serves as a minister in charge of frontiers, took in an aerial view of some of the southern Kuril islands on Saturday from a Japanese coastguard plane flying close by from Hokkaido, Japanese media reported.
He made the two-day trip after Japan-Russia ties were soured by a series of top Russian officials, including President Dmitry Medvedev, visiting the disputed islands.
Earlier this month, Kan described Medvedev's trip to Kunashiri, one of the islands, in November as an "unforgivable outrage", further fuelling the spat.
He has vowed to work hard for a settlement of the row over the islands which were seized by Russian troops in the closing days of World War II. Known as the "Northern Territories" in Japan, they also include Etorofu, Shikotan and the Habomai group of islets.
The dispute has prevented the two countries from signing a post-war peace treaty and kept Japanese investments to a minimum in Russia's under-developed Far East.
"Even if Russian leaders visit the islands, it won't change our country's legal and historical position (over the islands)," Edano said after the flight on Saturday near Kunashiri and the Habomai islet of Suisho, according to Japanese media.
"We will try to call on the Russian government to move the territorial talks forward in a calm environment," he said, adding that the islands are "much closer than I had expected".
"I'm sure people will show more interest in the issue once they understand this proximity."
There were no immediate press reports about Edano's visit on Sunday to the cape from where visitors can view Russian observation posts and radar facilities on Suisho, seven kilometres (four miles) away, with the help of binoculars.