TOKYO, Jan 4, 2011 (AFP) - Japan is open to direct talks with North Korea this year, its foreign minister said Tuesday, echoing conciliatory New Year's statements out of Seoul and Pyongyang after a recent flare-up in tensions.
"We want to create an environment that will make it possible for us to further strengthen (efforts) to hold direct dialogue this year, and not only in multilateral settings," Foreign Minister Seiji Maehara said.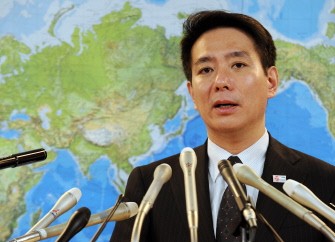 Japanese Foreign Minister Seiji Maehara answers a question during a New Year press conference at the foreign ministry in Tokyo on January 4, 2011. AFP
North Korea sharply heightened tensions in November when it launched an artillery strike that killed four people in the South and unveiled a uranium enrichment plant that experts fear could help it make atom bombs.
The United States held separate military drills with South Korea and Japan, and all three nations sharply condemned the North, while only its communist ally China refrained from publicly rebuking the isolated regime.
However, on Monday South Korean President Lee Myung-Bak Monday reached out and said the door for talks was "still open" and offering closer economic ties, while urging Pyongyang to abandon its "military adventurism".
The North, in a joint New Year editorial of state media on Saturday, said tensions "should be defused as early as possible," stressing dialogue and cooperation "should be promoted proactively".
Maehara said in his first press conference of 2011 that Japan was also open to talks -- both through six-nation denuclearisation talks with the Koreas, the United States, China and Russia -- and bilaterally.
"We have no diplomatic relations, but as one of the major themes of this year, we should not handle the North Korean issue only on multilateral occasions or six-way talks by relying on other countries," he said.
Tokyo and Pyongyang should directly discuss unresolved questions over Japanese citizens who were abducted by North Korean spies in the 1970s and 80s, to train the regime's secret agents in Japanese language and culture, he said.
"We have the abduction issue, which is related to Japan's sovereignty," the Japanese foreign minister said. "It is important to create an environment that will allow us to hold talks on the abductions, missiles and nuclear weapons issues between the two countries firmly and directly."