Japan promised Friday to aid Libya's nation building efforts after the death of Moamer Kadhafi and help meet the medical needs of the violence-hit nation, such as supplying prosthetic limbs.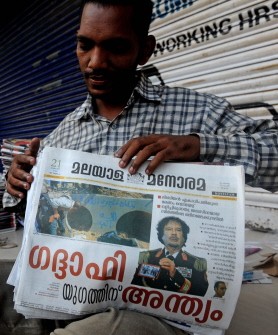 An Indian newspaper vendor counts papers carrying the news of the death of former Libyan leader Moamer Kadhafi on its front page at a distribution centre in Mumbai on October 21, 2011
Foreign Minister Koichiro Gemba said Tokyo was already starting a survey with the aim of reopening an embassy in the oil-rich nation.
"We wish to support Libya's efforts to build a new nation with our knowledge and technologies," he told reporters.
"The National Transitional Council has asked for help from Japan, such as prosthetic arms and legs for those who suffered injuries in armed clashes. For the time being Japan is committed to offering medical help in the form of grant aid," he said.
"Of course, once the situation and safety become stabilised, it is fully possible that we discuss investments," Gemba said.
Japan called for an early launch of a united interim government, Gemba said.
Kadhafi was killed Thursday in an assault on his hometown Sirte by fighters of the new regime.