Japan's Prime Minister Taro Aso dissolved parliament Tuesday, paving the way for an election late next month seen likely to end his party's more than half century of almost unbroken rule.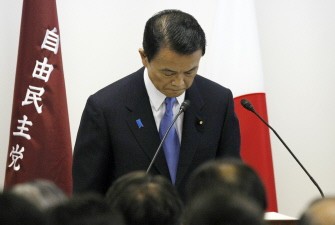 Japan's Prime Minister Taro Aso bows to Liberal Democratic Party (LDP) members during the party lawmakers' meeting at the LDP headquaters in Tokyo July 21, 2009. (AFP Photo)
The embattled Aso, who is lagging badly in opinion polls and has struggled to quell internal party revolt, offered a rare apology to his conservative Liberal Democratic Party (LDP) for the government's sagging support.
"My statements and what has been characterised as my changing policy positions have led the Japanese people to worry about and grow distrustful of politics," Aso said shortly before the lower house was dissolved.
"As a result, the approval rating for the Liberal Democratic Party has fallen. I am deeply sorry," said the 68-year-old premier.
Recent surveys put support for Aso in the high teens, and most pundits expect the main opposition group, the Democratic Party of Japan (DPJ), to win the general election on August 30.
A succession of local election defeats, most recently in key Tokyo assembly polls this month, has prompted rebel members of the LDP to try to push Aso out of power so the party can face the election under another leader.
Aso's allies and party leaders have tried to ease the internal dispute, and Aso on Tuesday vowed to stay on as party chief, but discontent is simmering among many ruling party lawmakers who are likely to lose their seats.
Aso, who first told reporters last week he would call the snap election next month, was due to meet the press at 6:00 pm (0900 GMT).
The premier -- who took office in September as the world's number two economy was sliding deep into recession amid the global economic downturn -- was likely to highlight his economic stimulus measures in appealing to voters.
The DPJ, led by political blueblood and US-trained engineer Yukio Hatoyama, has promised reforms, including strengthening social welfare and reducing the influence of the powerful state bureacracy.
"This general election is not only about ending the LDP's rule," Hatoyama told a news conference. "This is an important revolutionary vote to create a new Japan with politician-led politics.
"We need to tackle the election with the sense of a historic mission."
Finance Minister Kaoru Yosano charged that a giddy DPJ was already "opening a bottle of champagne and celebrating" every night, challenging them to offer a detailed policy platform and explain how it would be financed.
The LDP has governed Japan continuously since the party's foundation in 1955, except for one 10-month stretch in the early 1990s.
But the party has suffered a leadership crisis in recent years, electing three prime ministers since the popular Junichiro Koizumi stepped down in 2006.
The LDP lost to the DPJ in a 2007 upper house election. Since then, the opposition has controlled the less powerful upper house.