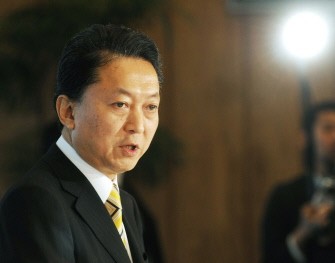 Japanese Prime Minister Yukio Hatoyama speaks at a meeting at his official residence in Tokyo on December 24, 2009 (AFP photo)
TOKYO, Dec 24, 2009 (AFP) - Japanese Prime Minister Yukio Hatoyama's fledgling government was shaken by a growing funds scandal Thursday as a former aide was charged with misreporting millions of dollars of donations.
The indictment caps a difficult first 100 days in office for the political blue-blood, whose August election victory ended more than half a century of almost unbroken conservative rule in the world's number two economy.
The former aide, Keiji Katsuba, was charged with falsifying reports to make it seem that 360 million yen (3.9 million dollars) provided by Hatoyama and his mother were donated by individual supporters, public broadcaster NHK said.
Hatoyama's former chief accountant Daisuke Haga meanwhile was ordered by the Tokyo Summary Court to pay a fine of 300,000 yen for failing to pay sufficient attention to the reports, the Jiji Press news agency reported.
But prosecutors decided not to indict Hatoyama due to a lack of evidence that he was involved in any wrongdoing, the reports said. There was no immediate confirmation of the indictments by prosecutors.
In June, when he was still opposition leader, Hatoyama admitted to sloppy account-keeping by his fund-raising body, which had listed the names of dead donors as well as people who later denied giving money.
Both aides were fired before Hatoyama's election win over the long-ruling Liberal Democratic Party (LDP).
Japanese law sets a limit on the amount of money that politicians and relatives can donate to their campaign coffers.
The indictment is a fresh blow for Hatoyama, who took office in mid-September with a vow to tackle wealth inequalities, curb the power of Japan's bureaucrats and pursue a more equal relationship with Washington.
A donations scandal forced Ichiro Ozawa, Hatoyama's predecessor as opposition leader, to step down from the post in May after his top aide was indicted, although Ozawa maintained his own innocence.
The latest scandal is unlikely to deal "fatal damage" to Hatoyama's own political career because the ousted conservatives are deeply unpopular, said Takayoshi Shibata, a professor emeritus at Tokyo Keizai University.
"This case of course is outrageous but there have been false funding reports since the days of the LDP. People may have complaints about the government but also think it's better" than the ousted conservatives, he said.
Hatoyama is the heir to a wealthy political dynasty often dubbed Japan's Kennedys. His mother is the eldest daughter of Bridgestone founder Shojiro Ishibashi and a major shareholder of the Japanese tyremaker.
The Stanford-trained engineering scholar has seen his cabinet's public approval rating sink below 50 percent, compared with more than 70 percent in his first weeks in office, according to recent media polls.
Hatoyama has been criticised by Japanese media for postponing a decision on where to move a key US military base, straining ties with Washington.
He has also backpedalled on a key manifesto pledge to scrap a petrol tax, reflecting growing worries about Japan's soaring public debt.