Japanese Prime Minister Yasuo Fukuda voiced hope Thursday for progress in a nagging dispute with China over lucrative gas fields as he set off on a visit marking a return to normal dialogue between the Asian powers.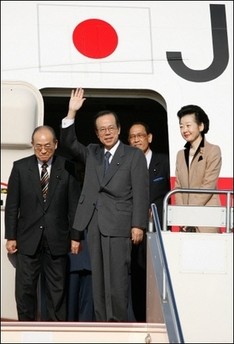 Japanese Prime Minister Yasuo Fukuda (C) waves prior to his departure for Beijing at Haneda Airport in Tokyo, 27 December 2007, while his wife Kiyoko (R) looks on (Photo: AFP)
Fukuda, who has sought better relations with Beijing throughout his career, will spend four days in China for top-level talks and public diplomacy and offer help for the fast-rising economy to cope with worsening pollution.

Asia's two largest economies last year launched a reconciliation drive but are still sharply divided over the gas fields in the energy-rich East China Sea. Japan and China missed a target to resolve the row this year.

But Fukuda sounded optimistic on resolving the longstanding row.

"We could come to an agreement if talks go well," Fukuda told reporters before his departure. "We should solve this as swiftly as possible."

The Asahi Shimbun reported Thursday that the two countries held secret talks on the gas dispute ahead of Fukuda's visit.

Chinese Vice Foreign Minister Wang Yi, a former ambassador to Tokyo, came to Japan last week and made a new proposal for joint development, the newspaper said.

The government declined comment on the report. But a senior foreign ministry official, speaking on condition of anonymity, said Japan sought "to agree not only on a general principle but on something specific" during the talks.

Eleven rounds of negotiations have yielded little, with China rejecting the maritime border which Japan considers a starting point for discussions. But China is seen as wanting progress before President Hu Jintao pays a landmark trip to Tokyo in the spring.

Fukuda's trip is the first by a Japanese premier since October last year, when his predecessor Shinzo Abe broke a freeze by heading to Beijing within days of taking office.

China refused high-level contact with Japan during the 2001-2006 premiership of Junichiro Koizumi due to his pilgrimages to Tokyo's Yasukuni shrine, which venerates war criminals who invaded China, alongside another 2.5 million of war dead.

Fukuda -- whose father, late premier Takeo Fukuda, signed a landmark friendship treaty with China in 1978 -- has consistently opposed the Yasukuni shrine and called for Japan to be humble about its past.

"The relationship with China has finally come to the point that we can talk in a normal atmosphere," the Japanese foreign ministry official said of Fukuda's summit with Chinese counterparts.

China saw rare protests in 2005 denouncing Japan over its wartime aggression. But its leadership is seen as wanting stable relations to ensure that next year's Olympics, a symbol of Beijing's rising clout, go without a hitch.

Business leaders in Tokyo have also pushed hard for better relations with China, which is Japan's largest commercial partner.

Fukuda's trip will be heavy on goodwill gestures including a visit to a school and a tour of Qufu, the birthplace of Confucius.

By paying respects to the revered philosopher, Fukuda hopes to show to the Chinese people "the longstanding ties between Japan and China," another foreign ministry official said.

Fukuda, who will host the Group of Eight industrial nations next year, said he would also offer help in fighting global warming. China is the world's top greenhouse gas emitter after the United States.