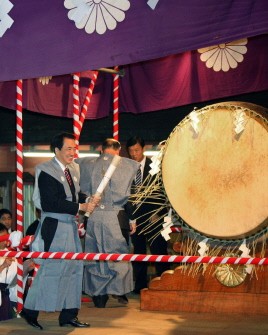 Japanese Prime Minister Naoto Kan (L) prepares to beat a drum for the new year at the Ookunitama shrine in Fuchu city, Tokyo, on January 1, 201. AFP
TOKYO, Jan 1, 2011 (AFP) - Japan's Prime Minister Naoto Kan plans to reshuffle his cabinet launched less than four month ago and may sack a close aide who has faced censure from the opposition, reports said Saturday.
Kan will shake-up cabinet and executive posts in his Democratic Party of Japan (DPJ) after a party convention set for January 13, the mass-circulation Yomiuri Shimbun reported, quoting anonymous DPJ officials.
He may replace his right-hand man, Chief Cabinet Secretary Yoshito Sengoku, against whom a non-binding censure motion was passed in the opposition-controlled upper house of parliament, the daily and Kyodo News agency said.
Opposition parties accused Sengoku, influential in government decision-making, of being soft towards China in a territorial dispute and demanded he resign.
They have threatened to boycott parliamentary deliberations on the budget for the next fiscal year starting in April and other issues if he is present.
The possible replacement of Sengoku is aimed at avoiding the deadlock in the divided parliament, Kyodo said.
Sengoku became chief cabinet secretary in June when Kan took power and stayed on when the premier reshuffled his cabinet in September.
Land and transport minister Sumio Mabuchi, who was censured in the upper house along with Sengoku, may also be replaced, the Yomiuri and Kyodo said.
Kan is struggling to boost his cabinet's support ratings, which have fallen to around 20 percent in recent polls, especially over foreign policy, including its handling of the row with China over a group of islets in East China Sea.