TOKYO, Oct 26, 2009 (AFP) - Japan's centre-left Prime Minister Yukio Hatoyama stressed in his first policy address to parliament Monday that he wants a relationship of equals with chief ally the United States.
Hatoyama, who took power last month, was speaking ahead of Barack Obama's first visit to Tokyo as US president on November 12-13 and amid a row about where to relocate a major US base on a southern island.
"The close and equal alliance between Japan and the United States is the foundation" of efforts to secure regional peace that would benefit Japan, Asia and the entire world, he said.
"Being equal means a relationship in which Japan can also actively propose roles and concrete actions that the Japan-US alliance could perform for global peace and security," the 62-year-old leader told the Diet.
Hatoyama also said he would hold "frank talks" about pending issues between the two long-standing allies, including touchy questions related to the 47,000-strong US troop presence in the country.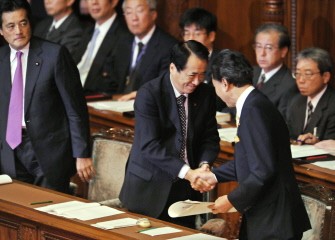 Japan's Prime Minister Yukio Hatoyama (R) shakes hands with Deputy Prime Minister Naoto Kan (C) after Hatoyama's first policy speech at the Diet in Tokyo on October 26 , 2009 (AFP photo)
The main debate has been about the US Marine Corps Futenma Air Base on Okinawa, a facility long opposed by many residents annoyed by aircraft noise, worried about accidents and angered by crimes committed by US personnel.
Hatoyama's government has said it would review a 2006 agreement to move the base from a crowded urban area to a coastal area of Okinawa by 2014, repeatedly suggesting that the facility may be moved off the island entirely.
Washington has urged Tokyo to honour the previous commitments, and US Defense Secretary Robert Gates on a Tokyo visit last week urged Japan to resolve the issue before Obama's visit.
In his parliamentary address, Hatoyama pledged closer cooperation with the United States in the fight against global warming and strong support for "President Obama's courageous proposal for a nuclear-free world."
Hatoyama also said he sought closer cooperation with Russia and vowed to solve a long-standing territorial row with Moscow over four islands which Soviet troops occupied in the closing days of World War II.
"I will position Russia as a partner in the Asia-Pacific region and will strengthen cooperative relations," Hatoyama said, without elaborating.
Pressing his vision of an EU-style Asian community, he also said he would promote cooperation with South Korea, China, the Southeast Asian nations and other Asian countries.
Domestically, Hatoyama spoke on his vision of a kinder, gentler society guided by the spirit of "fraternity" and said market forces are useful for a country but must be tempered to create a liveable society.
"It is self-evident that free economic activity in markets invigorates society," he said. "But it is also obvious that the idea of letting markets decide everything for the survival of the strongest, or the idea of 'economic rationalism' at the expense of people's lives, does not hold true any more."
Hatoyama's Democratic Party of Japan won a sweeping victory in August 30 lower house elections, ousting the business-friendly Liberal Democratic Party which had ruled with only one brief break since 1955.
The new government has promised more generous social welfare, including child payments and free school tuition, and has vowed to return power to elected politicians by reining in the powerful state bureaucracy.
Almost six weeks in office, Hatoyama is riding high on strong public support and landslide wins in two upper house by-elections on Sunday.