TOKYO, April 5, 2010 (AFP) - Japan's prime minister expressed regret over the expected execution Tuesday of a Japanese convicted drug trafficker in China as rights group Amnesty International announced protest rallies.
Mitsunobu Akano, 65, was due to face the firing squad Tuesday after Beijing informed Tokyo on Monday of a one-day delay in his execution and allowed his family to meet him, Jiji news agency reported, citing unnamed sources.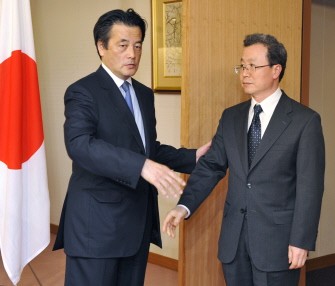 This file photo taken April 2, 2010 shows China's ambassador to Japan, Cheng Yonghua (R) and Japanese Foreign Minister Katsuya Okada prior to talks at the Foreign Ministry in Tokyo. AFP photo
Convicted of trying to smuggle 2.5 kilograms (5.5 pounds) of illegal stimulants from China to Japan, he is expected to become the first Japanese executed in China since the countries established diplomatic ties in 1972.
Prime Minister Yukio Hatoyama told reporters that the Japanese people feel the death penalty for Akano "is regrettable and severe" but he also said there was little Japan could do about another country's judicial process.
Japan's top government spokesman, Chief Cabinet Secretary Hirofumi Hirano, earlier said that "we have conveyed our concern, including our wish that something be done about it in view of the people's feelings."
"But as the matter is based on the judicial system of another country, I think we can take no other position than to express our views and concerns," he added.
China has told Japan it plans to execute three more Japanese drug smugglers as early as Thursday -- Teruo Takeda, 67, from Nagoya city; Hironori Ukai, 48, from Gifu prefecture; and Katsuo Mori, 67, of Fukushima prefecture.
The Japan branch of Amnesty International announced protests on Monday, Tuesday and Wednesday evenings outside the Chinese embassy "to strongly protest against all executions in China and demand an immediate end to executions."
Japan also has the death penalty, usually for cases of multiple murder.