TOKYO (AFP) – Japan's centre-left Prime Minister Yukio Hatoyama tearfully resigned Wednesday, just nine months after a stunning election win, his brief reign derailed by a row over an unpopular US airbase.
Hatoyama ended more than half a century of conservative rule in an electoral earthquake last August, but soon earned a reputation for crippling indecision at the helm of the world's second-biggest economy.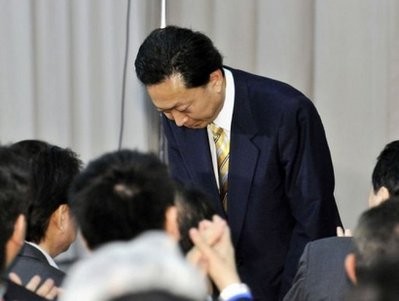 Japanese Prime Minister Yukio Hatoyama bows his head before his party's lawmakers at the national Diet in Toyko as he announced his resignation. AFP photo
The 63-year-old millionaire, the scion of an influential family dubbed "Japan's Kennedys", quit at a meeting of his Democratic Party of Japan (DPJ).
"I will step down," an emotional Hatoyama told party lawmakers at a special meeting in parliament, while also vowing to "create a new DPJ".
"The government's work has not reflected the public's wishes," said Hatoyama, who formally remains as premier until a successor is voted in.
"I apologise to all of you lawmakers here for causing enormous trouble."
The party plans to vote for a new leader on Friday. Finance Minister Naoto Kan, who is a deputy prime minister, was widely tipped to succeed Hatoyama.
The new DPJ chief must then be elected as prime minister by parliament in a vote expected later the same day.
Speculation had swirled for days that Hatoyama would quit as his approval ratings, once above 70 percent, crashed below the 20-percent mark.
The premier's rapid demise since he took office in September was driven by the festering dispute over a Marine airbase on Okinawa island that badly strained ties with the United States, Tokyo's bedrock ally.
Hatoyama, a Stanford-trained engineering scholar, took power vowing less subservient ties with Washington and closer engagement with Asia, worrying many Japan watchers in the United States.
He promised to move the US base off Okinawa, to ease the burden for locals who have long complained of aircraft noise, pollution and crime associated with a heavy American military presence since World War II.
But, after failing to find an alternative location for the base in Japan, the premier backtracked and decided to keep it on the island, enraging Okinawans and his pacifist coalition partners the Social Democrats.
The left-leaning group quit his three-party coalition on Sunday, weakening the government in parliament's upper house ahead of elections for the chamber expected on July 11, in which the DPJ expects to take a beating.
Hatoyama said he had also asked the DPJ's most influential figure, secretary general Ichiro Ozawa, to quit. Both Hatoyama and Ozawa have been embroiled in a political funding scandal.
Hatoyama's wealthy mother handed large donations to his electoral warchest, triggering a criminal investigation that saw a close aide receive a suspended jail term.
Ozawa, described as the "Shadow Shogun" for his power behind the throne, has seen three of his current and former aides indicted for cooking the books. Prosecutors have also questioned Ozawa himself and raided his offices.
Hatoyama identified the funding scandals and the Okinawa issue as the two main reasons for his demise.
"I have caused trouble for the people of Okinawa," he said.
"Cooperation between Japan and the United States is inevitable for peace and security in East Asia, so I had to ask Okinawans, with regret, to bear the burden."
Apart from the finance minister, other potential successors include Foreign Minister Katsuya Okada, Transport Minister Seiji Maehara and Deputy Finance Minister Yoshihiko Noda.
Tokyo share prices rallied on Hatoyama's exit.
"The PM's resignation will provide some stability to the market short-term as it removes big uncertainties" regarding overall policies, Citigroup trader Mattia Ciancaleoni told Dow Jones Newswires.