TOKYO (AFP) – Japan's new Prime Minister Naoto Kan on Friday pledged a fiscal policy overhaul to reduce the country's massive public debt mountain, warning of a Greece-style meltdown.
"Our country's outstanding public debt is huge," the centre-left leader said in his first policy address since taking office Tuesday. "Our public finances have become the worst of any developed country."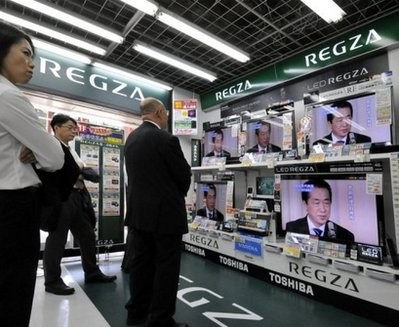 Businessmen watch televisions as Japan's new prime minister Naoto Kan gives a speech. AFP photo
After decades of stimulus spending and feeble tax receipts, Japan's public debt is now nearly double its gross domestic product, forcing the government to issue ever more bonds to pay for hefty outlays.
"It is difficult to continue our fiscal policies by heavily relying on the issuance of government bonds," said Kan, the former finance minister.
"Like the confusion in the eurozone triggered by Greece, there is a risk of collapse if we leave the increase of the public debt untouched and then lose the trust of the bond markets."
Kan has in the past advocated increasing Japan's sales tax, although he has not specified plans that may prove unpopular with voters ahead of upper house elections planned for July 11.
"It is unavoidable to launch a full reform of the tax system," he said, also calling for the establishment of a bipartisan panel "to review fiscal rehabilitation and engage in constructive debate together".
"If we maintain the current level of issuance of new bonds, outstanding debt will surpass 200 percent of GDP in a few years," he said.
Pledging to revitalise the world's second biggest economy after its long stagnation, Kan said: "The duty my cabinet must meet is to break the standstill that has lasted for nearly 20 years and create a vigorous Japan."
He targeted average real GDP growth of two percent a year until 2020.
Kan said his government would announce a growth strategy by the end of June to promote green technology, encourage exporters to find new markets in emerging Asian countries and support tourism.
"It's been 20 years since the collapse of the bubble economy in the early 1990s. Because the Japanese economy had been in the doldrums, people have lost the trust they had and fear the uncertainty of the future," he said.
Kan also promised to revive the spirit of his centre-left party, which in elections last year ended a half-century of conservative rule but saw its first premier resign after less than nine months in office.
"My biggest duty is to go back to the starting point of the historic power change, overcome the setback and regain the people's trust," Kan said, admitting that "early expectations of the government were rocked massively".
Kan took over from Yukio Hatoyama, who resigned over damaging money scandals and after giving in to Washington and reneging on an election promise to move an unpopular US airbase off the island of Okinawa.
Reiterating earlier comments on foreign policy, Kan said he would "strengthen relations with Asian countries while regarding the Japan-US alliance as the cornerstone" of Japan's diplomacy.
He stressed that US ties safeguard "stability and prosperity in the Asia-Pacific".
Kan said he would stick by Tokyo's agreement with Washington to relocate the contentious Futenma marine airbase within Okinawa.
"As for North Korea, the sinking of a South Korean warship is unforgivable," he said after a multinational panel last month blamed the communist regime for the deadly sinking of a South Korean warship in March.
He also said he seeks to "deepen strategic, mutually beneficial relations with China", build a "future-oriented partnership with South Korea" and end a territorial dispute and sign a post-World War II peace treaty with Russia.
Kan also invoked his early years as a left-wing activist for causes including pacifism and women's rights, saying "the power of one vote can change politics -- my past, intense experience is the origin of my politics."
"Leadership doesn't only come from politicians and parties... I can only deliver leadership if people trust me and tell me, 'Okay, give it a shot'."