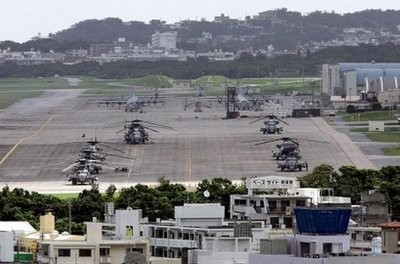 File photo shows US helicopters and planes parked at Futenma US Marine Base in Ginowan, Okinawa Prefecture.

Japan's Prime Minister Yukio Hatoyama

on Friday said he does not plan to make a decision on the relocation of a controversial US military base before President

Barack Obama

visits

Tokyo

next week.
Hatoyama's centre-left government, which took power in September, has promised to review a pact under which a new US base would be built on southern Okinawa island, while Washington has insisted Tokyo stick to the agreement.
The issue has clouded ties ahead of Obama's visit next Thursday and Friday.
"I don't intend to make a decision before President Obama's visit," Hatoyama told a parliamentary committee when asked about the row.
Washington and Tokyo have been close allies in the post-war era, and the United States has about 47,000 troops based in Japan, more than half of them on Okinawa, where their presence has often rankled local residents. Related article: Call for environmental base plan
The premier has suggested that the contentious military facility, the US Marine Corps Futenma Air Base, currently located in a crowded urban area, may have to be moved off Okinawa altogether, or even out of Japan.
Hatoyama said Friday that US-Japan relations were not only about Futenma.
"I want to have active talks on issues such as Afghanistan. I'm convinced that his (Obama's) visit to Japan will surely be meaningful," he said in parliament.
Hatoyama has said his government would end a naval refuelling mission now backing the NATO-led Afghanistan campaign when its mandate expires in January, but that Tokyo would instead boost its aid to the war-torn country.