TOKYO, June 28, 2011 (AFP) - Japan's embattled Prime Minister Naoto Kan came under fresh pressure Tuesday to resign after he set conditions for his departure and shuffled government posts in response to the March disasters.
Kan's actions were even criticised by his own ministers and party after picking for his cabinet a lawmaker from the main opposition Liberal Democratic Party (LDP) without consulting either party leadership.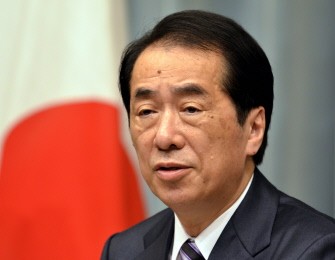 AFP - Japanese Prime Minister Naoto Kan addresses press representatives at his official residence in Tokyo on June 27, 2011.
Finance Minister Yoshihiko Noda, widely tipped to succeed Kan as premier, told reporters that Kan should have "bowed his head and pleaded for cooperation by standing at the LDP's front door".
"He has created bigger obstacles to negotiations between the ruling and opposition camps," said Koichiro Gemba, the state minister in charge of national policy.
Newspaper editorials blasted Kan's moves as confusing, ineffective or a self-serving bid to prolong his time in office, four weeks after he survived a no-confidence motion by promising to step down at an unspecified date.
"We should not let the political vacuum and the policy-making stalemate prolong any longer," the mass-circulation Yomiuri Shimbun said. "We again demand his early resignation."
Kan said he would only step down on condition that a second post-quake reconstruction budget, funding bills and legislation to promote renewable energy, are passed first in a parliamentary session extended to August.
"The premier still did not specify the date. He effectively declared he would stay on beyond September if the bills are not passed by then when the current session of parliament ends," said the conservative Sankei Shimbun.
Kan has faced criticism for his response to the March 11 tsunami and earthquake, amid anger at his handling of the ensuing nuclear crisis and slow progress in helping victims of the disasters.
On Monday he created two ministerial jobs to deal with the accident at the crippled Fukushima nuclear power plant and with post-disaster reconstruction.
They were taken by members of Kan's centre-left Democratic Party of Japan (DPJ) who had been familiar with the roles in different government posts.
DPJ executives, including secretary-general Katsuya Okada, have advised Kan to leave office by the end of August to seek cooperation from the LDP in parliament.
Divisions within Kan's party have deepened amid political turmoil that has dismayed voters at a time of crisis and slowed debate on key measures needed to cope with the disasters and efforts to ease Japan's ballooning debt.
Kan drew more fire for appointing LDP upper house lawmaker Kazuyuki Hamada as a vice internal affairs minister in charge of reconstruction.
The premier neither consulted his own party nor the opposition on Hamada's appointment, which was described by the influential Asahi Shimbun as an "attempt to undermine LDP strength in the upper house".
The DPJ, which ended a half century of almost unbroken LDP conservative rule with a landslide election win in 2009, lost its majority in the upper house last year following elections under Kan.
The business daily Nikkei said: "The DPJ no longer resembles a ruling party as it continues to react in a spur-of-the-moment manner."
Opposition LDP president Sadakazu Tanigaki said: "Mr. Kan has started driving recklessly... He has demonstrated that he thinks he doesn't need any cooperation from the LDP at all."