A Malaysian newspaper has apologised after it triggered uproar with a cartoon depicting the popular Japanese icon Ultraman running away from an oncoming tsunami. The Malay-language Berita Harian drew heavy criticism, especially on social networking websites, after it published the cartoon on Sunday on its comment page.
0341 GMT: Tokyo stocks have fallen 6 percent in afternoon trading as investors reacted to the biggest earthquake in Japan's history.
0317 GMT: A large wave was spotted off Japan's coast Monday by a helicopter, but the meteorological agency said it had detected no sign of a new tsunami or a major quake that would have triggered it.
- Authorities had issued evacuation orders in some parts of the devastated coastline after the initial report and as seawater was seen retreating off Iwate and Aomori prefectures -- a phenomenon that occurs before tsunamis.
0311GMT: Japan nuclear plant operator says 7 missing, 3 injured after a blast at the facility.
0254 GMT: An explosion at the quake-damaged number 3 reactor of the Fukushima No. 1 plant did not apparently breach the reactor, the chief government spokesman Yukio Edano said.
2040 GMT: Japan nuke plant operator TEPCO says reactor survived explosion, reports Jiji news agency.
0229 GMT: An explosion shook a quake-damaged Japanese nuclear power plant and plumes of smoke rose from the building, live television showed. Japan's nuclear safety agency said the blast, at the number 3 reactor at the Fukushima No. 1 plant, was believed to be caused by hydrogen.
0214 GMT: The water level off Japan's coast has dropped 5 metres as tsunami nears, says state broadcaster NHK.
0212 GMT: Japan's central bank pumped another 5 trillion yen ($61 billion) into the short-term money market Monday after earlier injecting a record 7 trillion to boost confidence after twin disasters.
0208 GMT: Estimated three-metre (10 foot) tsunami seen off Japan by helicopter says Jiji news agency.
0200 GMT: As Japan struggles with a severe energy shortage, South Korea has said it will redirect some of its liquefied natural gas imports to Japan to help its disaster-hit neighbour, a Seoul official said.
- Japanese electricity operators have predicted it will take more than a month for Tokyo to offset shortages caused by damage to its nuclear power plants.
0156 GMT: The government has advised people not to go to school or work today due to widespread power cuts and transport disruptions, including in the capital Tokyo.
0150 GMT: The rescue of three senior citizens who had been trapped in a tsunami-swept car for 20 hours was shown on Japan's television network NHK.
0148 GMT: The latest quake off coastal Ibaraki prefecture -- one of many aftershocks since Friday's massive 8.9 quake -- had a 5.8-magnitude, said the US Geological Survey, which said the quake struck at a depth of 18 kilometres.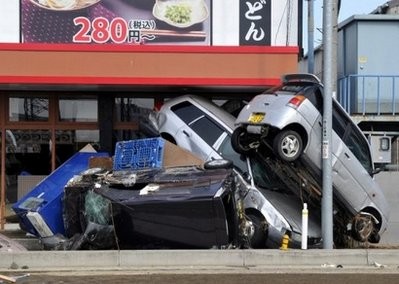 Cars damaged in the tsunami which hit northeast Japan sit piled on top of one another in Tagajo, Miyagi prefecture days after a massive 8.9 magnitude earthquake monster wave hit the region
0113 GMT: A strong offshore earthquake struck 150 kilometres (90 miles) northeast of Tokyo Monday morning, shaking tall buildings in Japan's capital, but authorities did not issue a tsunami alert.
0054 GMT: A nuclear power plant damaged by Japan's deadly earthquake and tsunami is still in an 'alarming' state, Prime Minister Naoto Kan said Monday according to Kyodo News.
0021 GMT: Japan's central bank injected a record 7 trillion yen ($85.7 bln) into the short-term money market Monday, in an attempt to build confidence after a devastating earthquake and tsunami.
0000 GMT: The yen briefly touched a four-month high against the dollar in early Asian trade on Monday with currency markets responding to Japan's devastating earthquake and tsunami.