A Japanese man in his 50s has died from swine flu, in the country's first death from the virus, a local government official confirmed Saturday.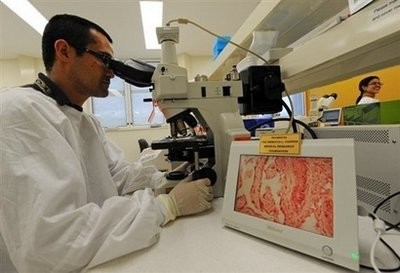 An Australian expert tests a patient's blood sample to found virus H1N1 (AFP Photo)
The man, a resident of Japan's southern Okinawa prefecture who suffered from a chronic ailment, died of the A(H1N1) virus after developing complications, the official said.
Japan's Jiji Press reported that the man, 57, had a chronic kidney condition and had previously experienced both kidney failure and cardiac arrest.
He had no recent records of travelling abroad, it said.
The number of swine flu cases in Japan topped 5,000 late last month, as worries grew that the spread of the virus was accelerating.
The virus hit Japan in early May and quickly spread to high schools in the western cities of Kobe and Osaka before infecting the wider population.