TOKYO, Nov 22, 2010 (AFP) - North Korea's latest claims to have a working uranium enrichment programme are "absolutely unacceptable," Japan's top government spokesman Yoshito Sengoku said Monday.
His comment follows disclosures by a US scientist that he had toured a modern uranium enrichment plant in the communist state, raising the prospect that Pyongyang is preparing to build a more powerful atomic bomb.
"North Korea's nuclear development is absolutely unacceptable from the point of view of Japan's security and the region's peace and stability," Chief Cabinet Secretary Sengoku told reporters.
"We will continue to make the utmost efforts toward the suspension of North Korea's nuclear development in cooperation with the United States, South Korea and China," he told a regular news conference.
US scientist Siegfried Hecker revealed at the weekend that he had toured a modern, new uranium enrichment plant equipped with at least 1,000 centrifuges on November 12 at the Yongbyon nuclear complex.
Hecker, a Stanford University professor, called the facility "stunning," adding he was told it was already producing low-grade uranium, although there was no way to confirm if the plant was fully operational.
The US special envoy for North Korea, Stephen Bosworth, was due to head to Japan later Monday after a stop in South Korea, where he said Pyongyang's claims were provocative and disappointing but "not a crisis".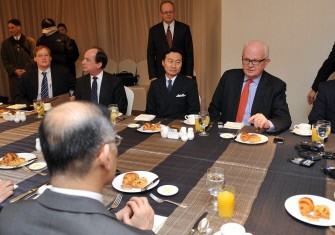 Stephen Bosworth (R) talks with South Korea's chief nuclear envoy Wi Sung-Lac (front) during their breakfast meeting in Seoul on November 22, 2010. AFP
Bosworth, who later heads to China after visiting Tokyo, is visiting nations that are members of the moribund six-party talks aimed at abolishing North Korea's nuclear programme, negotiations in which Russia is also a member.
The US envoy said the programme violated a United Nations resolution and a September 2005 six-nation agreement, under which the North agreed to scrap its nuclear programmes in return for aid, diplomatic and security benefits.
However, Bosworth also said he does "not at all rule out the possibility of further engagement with North Korea".
North Korea, which has carried out two nuclear tests, withdrew from the denuclearization talks in 2009.
N. Korea also announced last year it was restarting its Yongbyon complex, outside the capital Pyongyang, after UN condemnation and sanctions.
Hecker said North Korean scientists told him that construction work on the facility started in April 2009 -- the same month Pyongyang withdrew from the six-party talks -- and was completed just a few days ago.
Hecker, who is reported to have briefed the White House, said he had been astonished by what he had seen.
"Instead of seeing a few small cascades of centrifuges, which I believed to exist in North Korea, we saw a modern, clean centrifuge plant of more than 1,000 centrifuges all neatly aligned and plumbed below us," he wrote.
His guides told him there were in fact 2,000 centrifuges which were already producing low-grade enriched uranium to help fuel a nuclear power reactor, and insisted it was for a civilian nuclear electricity programme.