Japan gave its military the green light on Friday to shoot down any incoming Democratic Peopel's Republic of Korea (DPRK) rocket, with tensions high ahead of a planned launch that the US and allies say will be an illegal missile test.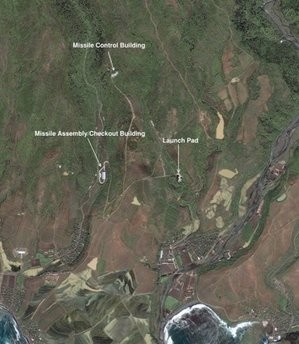 A June 2006 satellite image from Ikonos courtesy of Geoeye WIA, shows the location of the vehicle assembly building and launch pad at the North Korean missile facility at Musudan-Ri(AFP Photo)
Japanese and US warships have already deployed ahead of the April 4-8 window, when DPRK has said it will launch a communications satellite.
Pyongyang has said any move to shoot it down would be an act of war.
But Republic of Korea (RoK), Japan and the United States have all warned the North that any launch would be unacceptable, amid fears the regime is actually intending to test a long-range missile that could reach North America.
The security council in Japan, where pacificism has been official policy since the end of World War II, decided ahead of time to shoot down any incoming missile that could hit its territory rather than wait until a launch.
"The security council this morning decided to issue a destruction order in advance," said Defence Minister Yasukazu Hamada.
"We will do our best to handle any flying object from DPRK."
DPRK said Thursday that even referring a launch to the United Nations would ruin the long-running and erratic six-nation nuclear disarmament talks, during which DPRK has already tested one missile and an atomic bomb.
US National Intelligence Director Dennis Blair said the North wanted to show it had the technology to launch an intercontinental ballistic missile.
DPRK is believed to be preparing to test a Taepodong-2 that could hit Alaska.
"DPRK is attempting to demonstrate an ICBM capability through a space launch," Blair said. "That's what they are up to."
Pyongyang has reportedly already put a rocket onto one of its launch pads, raising the stakes in a delicate diplomatic stand-off that has come just two months into the new US administration of President Barack Obama.
The six-nation talks -- grouping North and South Korea, the United States, China, Russia and Japan -- have offered the North aid and security guarantees in exchange for dismantling its nuclear programme.
DPRK said Thursday that bringing any launch to the United Nations would be a "hostile action" that would end the negotiations.
The United States, which says the launch would violate a UN Security Council resolution, has vowed to do so.
"The six-party talks will become non-existent," a spokesman for the North's foreign ministry told official media.
Senior US, Japanese and the RoK negotiators were to meet in Washington later Friday to discuss the situation. Japan's order for a shoot-down is the first since the nation revised its defence law in 2005.