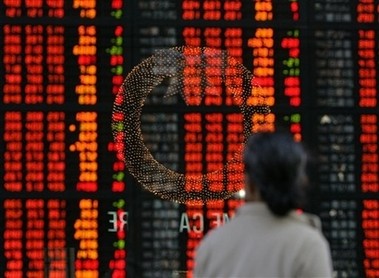 A pedestrian glances at a stock indicator on which a Christmas illumination is reflected in downtown Tokyo Monday, Dec. 18, 2006. Japanese stocks rose Monday to a fresh seven-month high on optimism over Japan's economic outlook
Japan forecast on Tuesday that its economy would post slightly faster growth in the fiscal year to March 2008, marking the sixth straight year of expansion on strengthening domestic demand.
The government expects Gross Domestic Product (GDP) to grow 2.0 percent in real, inflation adjusted terms in the next fiscal year, compared with a revised estimate of 1.9 percent in the current year, said the forecast approved by the cabinet.
The study also forecast the first growth in a decade in a key measure of inflation -- the GDP deflator -- showing that the world's second economy is finally winning its long bout with falling prices.
"There is no change in our stance that an exit from deflation is in sight," Chief Cabinet Secretary Yasuhisa Shiozaki told a news conference after the forecast was released.
The government said in the outlook that the economy is expected to continue its gradual recovery in the next fiscal year, led by domestic private demand and especially, strong corporate earnings.
But the government revised downward its economic growth forecast for the current fiscal year to a real 1.9 percent from its earlier estimate of 2.1 percent as consumer spending has weakened since the summer.
On a nominal basis, its growth estimate was also revised downward to 1.5 percent from the 2.2 percent forecast earlier.
For the next fiscal year, the government projected the country's growth at 2.2 percent on a nominal basis, before adjustment for inflation.
Japan is in the midst of its longest sustained recovery since World War II as it rebounds from the 1990s doldrums.
Last month the Organization for Economic Cooperation and Development (OECD) said that Japan's economic recovery should continue through 2008, albeit at a slower pace.
It trimmed its forecast for Japanese economic growth to a real 2.0 percent in 2007, down from a previous estimate of 2.2 percent, and warned the central bank against raising interest rates again yet because deflation still lingers.