TOKYO, Oct 15, 2009 (AFP) - Japan has told the United States it will end a naval refuelling mission that supports the war in Afghanistan, a top defence official said Thursday, a month before President Barack Obama visits Tokyo.
The formal confirmation to the White House and Pentagon, days before Defence Secretary Robert Gates visits Japan, is part of efforts by the new centre-left government here to recalibrate security ties with Washington.
Prime Minister Yukio Hatoyama, who took office last month, has said he wants "more equal" relations with the United States and that he opposes plans to build a new US air base on the southern island of Okinawa.
Hatoyama, whose party in opposition spoke out against abetting "American wars", has for months said it would not renew the naval refuelling mission in the Indian Ocean that was first launched in 2001.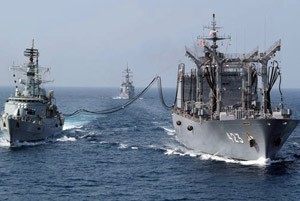 Picture taken 13 September 2007 shows Japanese Maritime Self-Defence Force's oil tanker Tokiwa (R) in the fueling mission to a Pakistani destroyer (L) at the northern Arabian Ocean (AFP photo)
On Wednesday the parliamentary defence secretary, Akihisa Nagashima, the third-ranking defence official, told the White House and Pentagon the mission would not be renewed when its legal mandate expires in January.
"I explained that the special law will expire," Nagashima said in Washington after meeting National Security Adviser James Jones and Undersecretary of Defence Michele Flournoy.
Obama is currently reviewing his strategy in Afghanistan, where recent elections were seen as widely flawed, and is weighing how many American troops to deploy to the bloody conflict.
Hatoyama's Democratic Party of Japan, which ended more than half a century of almost unbroken conservative rule, has signalled a renewed emphasis on pacifist values and civilian aid rather than military efforts.
Hatoyama has proposed new, non-military support for Kabul, such as job training for former Taliban soldiers.
Defence Minister Toshimi Kitazawa told AFP: "The most feasible support Japan can offer in terms of Afghanistan is civilian support."
This might mean using Japanese air force planes to transport aid to Afghan refugees in Pakistan, he said.
Hatoyama, an admirer of Obama -- who visits Japan on November 12-13 -- has also said that he wants to work more closely with Washington on combating climate change and on nuclear non-proliferation.
The naval mission has supported US and other NATO forces in the Afghan conflict with refuelling and logistical support, but has drawn scorn at home from left-leaning politicians now in Hatoyama's ruling coalition.
The change of power in Tokyo has also revived debate on another long-simmering issue, the 47,000-strong US military presence in Japan that started with the superpower's post-World War II occupation.
A flashpoint has been the US Marine Corps Futenma Air Base, located in a crowded urban area where residents have long complained of aircraft noise, the danger of accidents, and occasional frictions with service personnel.
Under a 2006 agreement which Japan struck with the US administration of George W. Bush, the base would be closed but replaced with a coastal facility to be built by 2014.
Hatoyama has in the past said he wants the replacement facility to be built outside Okinawa or even outside Japan, a proposal favoured by two minor parties whose support he needs in the upper house of the Diet legislature.
The issue will be a focus of the October 20-21 visit by Gates, the first by a US cabinet member since Japan's elections, Pentagon press secretary Geoff Morrell said on Wednesday.
Morrell said the United States remained committed to the 2006 agreement, under which thousands of US troops would also be moved to Guam.
"We think these are very complicated agreements that are beneficial to both of our countries, and to our long-term relationship, and to the security situation in the region," he said.
Kitazawa said Japan may have few options other than to keep the base on Okinawa.
"Regarding a relocation outside Okinawa, where else do we have?" he said. "It's extremely difficult to find an alternative place in the current situation."