TOKYO, April 26, 2011 (AFP) - Japan has used a 30-second message on CNN to thank countries who sent rescue teams and aid and offered moral support in the aftermath of its devastating March 11 earthquake and tsunami.
"Thank you, to all of you who understood," says the voiceover of the message on the news channel, as images are shown of foreign rescue crews, civilian aid efforts and a children's picture with the words "We are with you".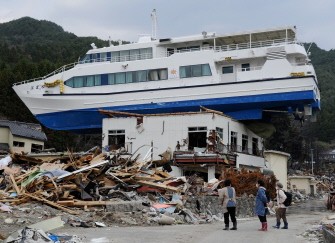 AFP – People looks at a ship atop a tourist in Otsuchi, Iwate Prefecture, on April 26, 2011.
"Thank you, to all our friends around the world who came at a moment's notice and to all your families who in turn supported you," it continues.
"Your help is greatly appreciated, and we draw strength from the friendship you extend as we start to rebuild our lives. For this, the people of Japan thank you -- personally. From us to you. Arigato gozaimasu (thank you)."
Japan's foreign ministry says 146 countries and regions as well as 39 international organisations have helped or expressed their intention to extend assistance, and 21 had sent rescue and medical support teams.
Japan had received relief goods and donations from scores of nations.
US forces from their bases in Japan launched the biggest foreign rescue effort, "Operation Tomodachi" (Friend), with more than 20,000 personnel.