Japan is to begin inspection at US meatpacking plants this weekend after Washington concluded that human and computer error caused recent shipments of banned beef to Japan, news reports said on Saturday
The Japanese government is to send farm and welfare ministry officials to the United States on Sunday for on-site inspections at 10 meat processing plants, the Asahi Shimbun and Jiji Press said, quoting ministry officials.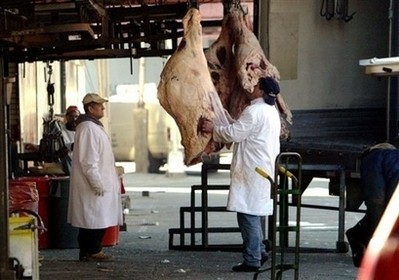 A meat market in New York
The inspection will continue until August 31, Jiji said, adding that Tokyo may lift a suspension of imports from the plants as early as mid-September, based on inspection results.
Japan announced on Friday that the US Department of Agriculture had recently sent reports to Tokyo on the cases, saying one of the two shipments of banned beef resulted from human error in the packing process in April.
The US reports also noted that a programming mistake in computer software designed to compute the age of beef cows caused the other shipment of banned beef to Japan in January.
Japan has suspended beef imports from the US meatpacking plants that shipped risky cuts in violation of a bilateral accord aimed at limiting the threat of mad cow disease.
Japan initially banned US beef in December 2003 after the brain-wasting cattle disease, bovine spongiform encephalopathy (BSE), was found in a US herd. Japan had until then been the US cattle industry's biggest export market.
But Tokyo in July 2006 agreed to resume US beef imports on condition the cattle were not more than 20 months old at the time of slaughter, with brains, spinal cords and other risky parts removed.