Japan will "continue to buy" bonds issued by the European bailout fund, the head of the European Financial Stability Facility told reporters in Tokyo on Monday.
"The Japanese government will continue to buy the EFSF bonds that we have been issuing," Klaus Regling said after meeting with Takehiko Nakao, Japan's top financial diplomat in Tokyo, Kyodo news reported.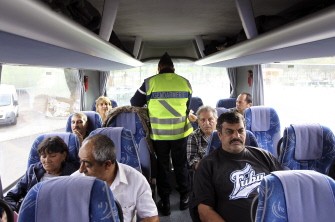 French gendarme checks the identity of bus passengers at a toll, on October 28, 2011 in La Turbie, near the Franco-Italian border, as part of security measures taken ahead of the G20 Summit of Cannes
Japan has so far purchased around 20 percent of the debt issued by the continent's bailout fund, and had indicated its willingness to buy more.
However, Dow Jones Newswires cited an unnamed finance ministry official saying that Tokyo may not maintain the 20 percent purchase rate.
After a marathon meeting in Brussels last week EU leaders announced measures including quadrupling the firepower of the fund to one trillion euros ($1.4 trillion) from 440 billion euros.
But with the European governments wary of putting more money into the fund, Regling was forced to look abroad.
He arrived in Tokyo over the weekend after a visit to Beijing during which China said it would seek more clarity before stumping up cash for the bailout.
On Friday Prime Minister Yoshihiko Noda offered vague promises that he would help Europe overcome its sovereign debt crisis, but gave no details on what form this help might take.
"During the upcoming G20 summit, I will map out Japan's contribution to settling down the global economic crisis sparked from Europe," Noda told parliament, referring to the gathering of global heads in France this week.
"Our determination and capacity as politicians is challenged at a time like this when a storm blown from Europe is ripping through global financial markets."
His remarks, in a policy speech, came after Japan's Finance Minister Jun Azumi said Tokyo was ready to take "necessary measures" to help revamp the eurozone in the interests of its own economy.
Japan, already stumbling to recover from the effects of the March earthquake and tsunami and the nuclear emergency they sparked at Fukushima, is facing further headwinds from the slowdown in global trade.
The country's vital export sector is also battling a stubbornly strong yen, hitting profits and threatening domestic production, as investors flock to the currency as a safe haven, pushing up its value.
On Monday, Japan intervened in the currency market for the first time since August to drive down the value of the yen after it hit yet another post-war high against the dollar.
Azumi told reporters that Japan's move was unilateral but did not comment on the size of the intervention.
The dollar climbed to 79.30 yen at around 0240 GMT after hitting a low of 75.32 yen in Oceanian trade earlier Monday. The euro rose to 111.36 yen from 107.06 yen struck earlier Monday.
Manufacturers have also been troubled by the uncertainty over Europe's persistent debt problems.
After 10 hours of tense talks in Brussels, Europe's leaders on Thursday thrashed out a deal aimed at providing new funds to Greece in a bid to stop the region's crippling debt troubles sparking another global financial meltdown.