TOKYO, April 8, 2011 (AFP) - Japan on Friday signalled it would lift some restrictions on produce from areas near the stricken Fukushima Daiichi nuclear plant that were imposed due to concerns about radiation contamination.
Restrictions on milk produced in Fukushima prefecture would be lifted, along with those placed on spinach and kakina, a leafy green vegetable, top government spokesman Yukio Edano said.

"The government has received requests for lifting shipping bans on milk produced (in seven municipalities) in Fukushima prefecture and spinach and kakina vegetables from Gunma prefecture," Edano said.
"I understand that this produce satisfies conditions for the bans to be lifted."

The 9.0-magnitude earthquake and deadly tsunami on March 11 severely damaged the Fukushima nuclear plant, which is leaking harmful radioactivity that has prompted the evacuation of tens of thousands of local residents.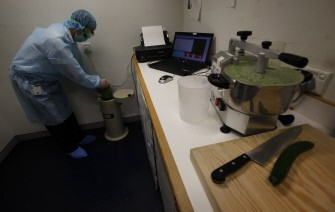 AFP - A food inspector from the Food and Environmental Hygiene Department checks imported Japanese vegetables for radiation inside a food inspection room at Hong Kong Airport April 8, 2011.
The government had halted shipments of untreated milk and many vegetables from Fukushima and other neighbouring prefectures after detecting radiation levels above the legal limit.
Several countries have banned imports of certain Japanese food from affected regions.