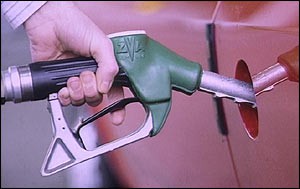 The fuel of the future could be made from the "waste products" from farming.
Japan will launch an initiative for 40 percent of cars to run on biofuels within five years in a bid to slash greenhouse gas emissions and dependence on foreign oil, a newspaper said Tuesday.
Vehicles account for about 20 percent of energy consumption in Japan which is nearly entirely dependent on the Middle East for oil, a major economic burden amid soaring crude prices.
The Environment Ministry will launch a project to boost the production of ethanol made from sugarcane produced on Miyako island in Japan's southern island chain of Okinawa, the Nihon Keizai Shimbun business daily said.
By the year to March 2009, all vehicles in Miyako will run on gasohol, a blend of gasoline which under Japanese guidelines includes up to three percent biomass resources such as sugarcane or wood waste, the report said.
The government hopes for 40 percent of cars to use biofuels by the year to March 2010, the daily said, quoting anonymous government sources.
The government will allocate part of the around 300 billion yen (2.6 billion dollars) for the project, the newspaper said.
Officials declined immediate comment on the report.
Japan has recently championed the campaign against global warming and is the home of the Kyoto Protocol, the first treaty mandating cuts in greenhouse emissions.
However, in the midst of an economic turnaround, many industries risk failing to meet Japan's requirement under the treaty to cut gas emissions six percent by 2012 from the 1990 level.
Australia and the United States, the world's biggest greenhouse gas source, both boycott the Kyoto Protocol, upset that it does not impose requirements on large developing economies such as China and India.
The Japanese plan would also boost the economy of Okinawa which has the highest unemployment rate in the country and is heavily reliant on tourism and US military bases.
Ethanol has been a longtime political issue in the United States, with politicians repeatedly promising farm states to boost production of corn-based biofuel.
But critics say that ethanol is falsely seen as a panacea as the energy it requires to produce and the potential pollution from that process cause risks.
Source: AFP