TOKYO (AFP) – Japan upgraded its nuclear emergency to a maximum seven on an international scale of atomic crises on Tuesday, the first time the ranking has been invoked since the Chernobyl disaster in 1986.
News of the raised alert comes as the country's nuclear safety watchdog saidthat radiation emissions equivalent to 10 percent of Chernobyl have leaked from the crippled Fukushima Daiichi nuclear plant.

The incident at the facility was sparked by last month's earthquake and tsunami, which killed more than 13,000 people, with around 14,500 people still missing.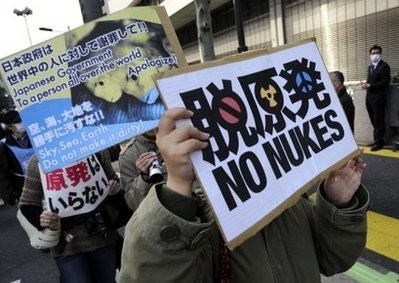 AFP - Protesters hold placards while marching in front of the headquarters of Tokyo Electric Power Company in Tokyo.
The regrading to a "major accident" puts Fukushima on a par with the 1986 Chernobyl disaster, the world's worst ever peacetime nuclear event. The meltdown at Chernobyl in the then Soviet Union spewed a large volume of toxic radiation, poisoning large areas of land and affecting thousands of lives.
Officials said it was difficult to estimate exactly how much radiation had been released in Japan's nuclear emergency. But available estimates "show levels equivalent to Level Seven," a safety agency official said.
Workers at Fukushima Daiichi are battling to control overheating reactors whose cooling systems were knocked out by last month's enormous waves.
The re-assessment from level five on the scale came as Japan was rocked by yet another powerful aftershock from the 9.0 magnitude quake that unleashed a devastating tsunami on March 11.
The 6.2 magnitude tremor hit 77 kilometres east of Tokyo on Tuesday and swayed buildings in the capital, temporarily shutting down subway services and halting bullet trains. US geologists originally put the magnitude at 6.4.
In a fresh setback, a fire broke out early Tuesday morning at a battery unit outside a building at the No. 4 reactor unit, but was quickly extinguished and did not spread to other areas, plant operator Tokyo Electric Power said.
The operator said it was not related to Tuesday's quake.
Already frayed nerves had been pushed further Monday after coastal areas were put on alert for a tsunami up to one metre (three feet) high after a 6.6 magnitude quake, which was known to have killed at least one person, Jiji Press reported.
Japan's meteorological agency withdrew the warning less than an hour later as the nation marked a month since the monster quake and towering tsunami of March 11.
Tokyo said Monday it was augmenting the evacuation area around the plant because of long-term health worries, even as the government said the danger of a large leak of radioactive materials was fading.
"The possibility that the situation at the nuclear plant will deteriorate and lead to new leakage of massive radioactive materials is becoming significantly smaller," chief government spokesman Yukio Edano told reporters.
He later told reporters the government was concerned over the effect of long-term exposure to radiation and would be ordering people to leave certain areas more than 20 kilometres (12 miles) from the plant, which are currently outside the exclusion zone.
But Edano said a uniform extension of the zone was not appropriate.
The assessment that the bulk of the danger had passed seemed to jar with Tuesday's reports that the government is boosting its assessment of the incident.
Kyodo reported that preliminary figures from Japan's Nuclear Safety Commission revealed the battered plant released 10,000 terabecquerels of radiation per hour for several hours at one point after the March 11 disasters.
According to the International Nuclear Events Scale, level seven incidents are ones with a "major release of radioactive material with widespread health and environmental effects requiring implementation of planned and extended countermeasures."
People around the country had fallen silent at 2:46 pm Monday in remembrance of the victims of Japan's worst catastrophe since World War II.
Around 150,000 people are still in emergency shelters after losing their homes or being evacuated from around the leaking Fukushima Daiichi plant.