After months of tensions, Japan and the United States will issue a joint statement aiming to deepen their security alliance next week on the 50th anniversary of a key treaty, reports said Sunday.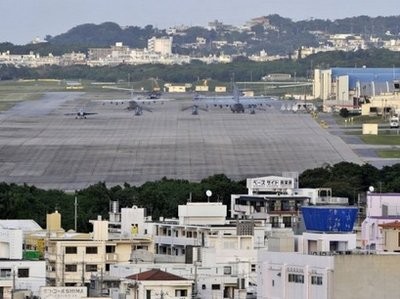 The US Marine Corps Futenma Air Base (top) in Ginowan, Okinawa, Japan in November 2009. (AFP Photo)
Despite a simmering row over the relocation of a US air base in Japan, the two governments aim to stress the crucial contribution of their alliance to global peace, the top-selling Yomiuri newspaper and other reports said.
"The governments are preparing for the statement, with which Prime Minister Yukio Hatoyama and President (Barack) Obama will celebrate the 50th anniversary and commit to further deepen the alliance," Japanese Defence Minister Toshimi Kitazawa said, according to Jiji Press.
The security treaty, signed on January 19, 1960, has formed the bedrock of the post-war Japan-US alliance, under which pacifist Japan relies on a massive US military presence to guarantee its security.
Final arrangements for the statement will be made when Foreign Minister Katsuya Okada and US Secretary of State Hillary Clinton meet in Hawaii on Tuesday, the Yomiuri said.
Tokyo's relations with its most important ally have hit turbulence over the controversial Futenma air base, which Hatoyama has suggested should be moved off the southern island of Okinawa or even outside Japan altogether.
The centre-left Hatoyama, who took power in September, has pledged to review past agreements on the US military presence, including plans to shift Futenma within Okinawa, and to deal with Washington on a more "equal" basis.
During Tuesday's talks in Honolulu, Clinton will tell Okada "how important it is to move forward on these issues in Futenma", Kurt Campbell, her top diplomat for Asian affairs, said Thursday.
Clinton will tell the Japanese minister that "we also have to have a very clear-headed recognition of how important this relationship is, how many aspects need to be maintained and engaged upon", Campbell said.