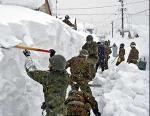 Japanese soldiers help residents clearing snow in Iiyama city
Fifteen points around Japan have been hit by record snowfall. Troops have flown to remote villages by helicopter to lend a hand in clearing up from the blizzard. Temperatures are expected to rise over the weekend, but this could bring further disaster in the form of landslides.
Yasutaro Oba, 75, was pronounced dead at a hospital in the northern prefecture of Yamagata on Thursday, a day after he was buried under snow that tumbled from his roof, a local police official said.
   Yoneo Takeda, 73, died of a neck injury in the same prefecture Wednesday after a frozen block of snow slid from the top of a neighbor's house and hit him, the official said.
   Elsewhere in Japan, an 87-year-old man and a 55-year-old farmer were killed in accidents plowing snow, police said.
   The new deaths brought the death toll from the heavy snowfall since December to 77, with more than half of the victims aged 70 or older. More than 1,000 people have also been injured.
  
   "It has been very cold but temperatures are likely to rise to the levels of mid- or late March this weekend," said an official at the Japan Meteorological Agency.
   "We need to be careful of avalanches. Water from melted snow could also cause flooding or landslides," she said.
   The snow-blanketed city of Joetsu in Niigata prefecture has another problem -- too much pumping of water from underground wells to melt the snow has led to fears that the ground may sink.
   The city has halved the volume of water running to city streets and urged corporations and citizens who own private wells to follow suit, said Tsutomu Kumaki, a local official in charge of environmental issues.
   Source: AFP