ISHINOMAKI, Japan, April 10, 2011 (AFP) - Prime Minister Naoto Kan promised Sunday he would "never abandon" survivors of Japan's tsunami as he tried to focus attention on the future, despite a high-stakes battle at a nuclear plant.
Kan, on only his second trip to the disaster zone in the month since the March 11 tragedy, said the government would "work as fast as possible" to house 150,000 people living in emergency shelters since the disaster struck.
Speaking to survivors in Ishinomaki city, a major fishing hub in the worst-hit northeast of the country, the prime minister said the government would do all it could to ensure fishing "can be resumed as soon as possible".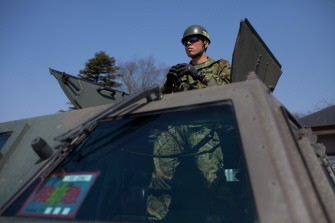 AFP - A Japanese Self-Defence Force soldier looks out at the sea conditions during search operations at the tsunami-devastated port area of Ishinomaki in Miyagi prefecture on April 10, 2011.
"The government will give all its strength to work with you. We will never abandon you," Kan told listeners to a radio station in the city after witnessing the devastation wreaked by the 9.0-magnitude quake and the massive tsunami it spawned.
The fishing industry, vital to many small communities in this island nation, has been seriously damaged by fears over contamination after a series of explosions at a nuclear plant leaked radioactive material into the air and sea.
Engineers trying to halt the spread of radiation after sealing a leak spewing highly contaminated water into the sea on Sunday began installing a "silt curtain" to try to prevent radioactive mud from spreading around the ocean.
But at the same time, plant operator Tokyo Electric Power (TEPCO) is deliberately dumping more than 10,000 tonnes of mildly radioactive water into the sea to free up urgently needed storage for highly toxic liquid.
A report Sunday said a high level of caesium had been found in the sand lance, or konago, fish caught in Fukushima prefecture, where the stricken nuclear plant is located.
Officials found radiation measuring 570 becquerels per kilogram in a sample caught Thursday, higher than the legal limit of 500.
Previously, illegal levels of radioactive iodine had been found in the fish, but caesium has a much longer half-life.
However, a voluntary halt to commercial fishing in the area means the fish would not have made it to market.
Kan's visit came as 22,000 troops engaged in an intensive search for bodies along Japan's northern Pacific coast.
Around 15,000 people are still unaccounted for, with 13,000 confirmed dead in Japan's worst disaster since World War II.
"In onshore areas, we are searching under debris and in flooded areas," a spokeswoman for the Ground Self Defence Forces said.
"We have (helicopters and planes) flying above the coastal areas, river mouths and large flood zones."
The prime minister also visited an emergency shelter, and chief government spokesman Yukio Edano told reporters the trip was vital for the administration to understand the plight of those affected.
He was also expected to urge Japanese to avoid "excessive self-restraint", Jiji Press reported, amid repeated calls for seasonal "hanami" -- alcohol-fuelled cherry blossom viewing -- parties to be toned down.
The prime minister is worried that "stagnation in consumer spending caused by excessive self-restraint would be detrimental to the Japanese economy and reconstruction efforts in disaster-hit areas," Jiji reported, citing an unnamed official.
On Saturday, Industry Minister Banri Kaieda donned full protective gear to become the first government member to step inside the nuclear plant, where workers are still battling with reactors at risk of overheating.
TEPCO was planning Sunday to overfly the site with an unmanned helicopter to get a look at the state of the reactors, where workers are injecting inert nitrogen gas to head off a possible hydrogen explosion.
Also Saturday, families in the resort city of Rikuzentakata became some of the first to move into temporary housing.
Around 150,000 people remain in emergency centres, where residents complain of little privacy and spartan conditions, and even the basic prefabricated units are a welcome relief.
Keiko Yoshioka, 35, was one of the lucky few chosen to move in to one of the 36 two-bedroom units on a school playing field in the city.
"I feel a bit relieved that maybe now I can restart from scratch," she said.
With so many still in shelters, ruling party lawmakers want an extra 500 billion yen ($5.9 billion) to construct a total of 70,000 units in tsunami-hit areas.