A fall in Japan's jobless rate pointed at recovery in the world's number two economy Friday, but the government fretted that the surging yen could again derail the export-reliant economy.
Finance Minister Hirohisa Fujii did not signal imminent plans to intervene in currency markets but stressed that Tokyo was watching closely and could take steps for the first time in five years if the situation worsens.
Fujii was speaking as the dollar traded around 85 yen, its lowest level since the mid-1990s, raising fears that Japanese exporters such as Toyota, Honda and Sony will lose competitiveness in overseas markets.
Using more strident language than usual, the minister said the yen's rapid rise was "harmful", a day after Prime Minister Yukio Hatoyama said the government must take measures to avoid a double-dip recession.
"If this kind of situation is sustained, I think that it would be something abnormal ... it would be possible for us to take" steps under such conditions, Fujii said, according to Dow Jones Newswires.
"We should take appropriate action against disorderly movements in order to stabilise international financial markets," Fujii said, adding however that he needed time to "look at the situation a bit more".
Japanese shares fell 1.81 percent in the morning as traders worried the strong yen would hurt Japanese exporters.
Commenting on the Japanese currency's rise against the dollar, Fujio Mitarai, the head of main business lobby Keidanren, warned that amid the gradual recovery "this could throw cold water on the economy".
Japan, Asia's biggest economy, sank into its worst post-war recession in the second quarter of 2008 as the global downturn devastated demand for its cars, electronics and other exports.
It gradually recovered this year, boosted by rebounding exports and stimulus measures, expanding in the July-September quarter by 4.8 percent on an annualised basis, the best growth in more than two years.
New jobs data Friday showed that the unemployment rate fell to 5.1 percent in October from 5.3 percent in September, improving for a third consecutive month and beating market expectations of a 5.4 percent rate.
Another survey, by the labour ministry, showed there were 44 job offers for every 100 jobseekers in October, slightly up from 43 in the previous month. Related article: Japan's jobless rate falls to 5.1pct
In other data suggesting a gradual rebound, average monthly household spending rose by a price-adjusted 1.6 percent in October from a year earlier, well above a rise of 0.6 percent the market had expected.
Renewed deflation, however, is still seen as a threat to the recovery, because falling prices hurt corporate earnings and dampen consumption as people delay spending in hopes of further price drops.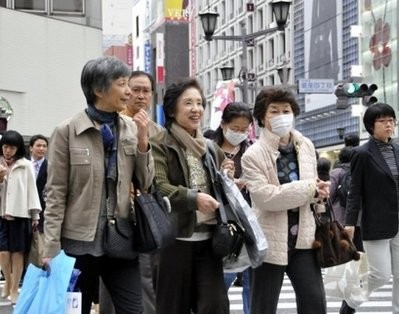 Shoppers pass through Tokyo's Ginza district.
Japan's core consumer prices fell 2.2 percent in October from a year earlier, marking the eighth straight month of drops, government data showed.
The drop in core prices, which exclude volatile fresh food, was slightly less than September's 2.3 percent drop and in line with market expectations.
"Deflationary pressure remains," even if the speed of price drops has slowed, said Hiroshi Watanabe, an economist at Daiwa Institute of Research.
"The economy has picked up since February thanks to an upturn in exports and production. The effect is now belatedly felt on prices and employment."
But hhe warned: "If the yen rises further, it would dampen exports, which are the main driving force of the Japanese economy. It would weigh down the Japanese economy as its recovery is feeble."