The yen soared to a record high against the dollar as Japanese stocks drooped Thursday, erasing a portion of the gains from the day before as the country struggled to avoid a post-earthquake nuclear catastrophe.
The dollar was hovering near 78.90 yen in Asia after plunging to 76.53 yen late Wednesday in New York — far below the previous all-time low of 79.75 yen set in April 1995.
Analysts attributed the wild swings in the yen to fears of a possible meltdown of a nuclear reactor that was crippled when a 9.0-magnitude earthquake struck off Japan's northeastern coast Friday, spawning a devastating tsunami.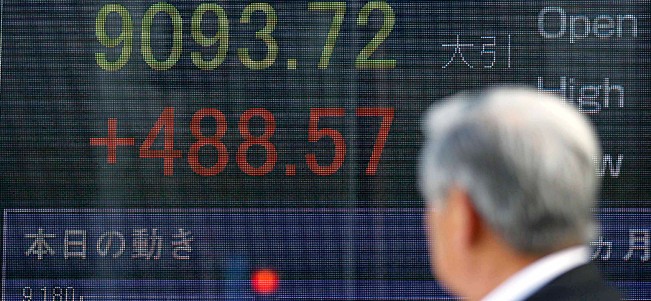 A man looks at the stock price board outside a securities firm branch Wednesday, March 16, 2011 in Tokyo.
U.S. officials in Washington warned the Fukushima Dai-ichi plant may be on the verge of spewing more radioactive material as Japanese military helicopters continued to dump sea water onto a stricken reactor in an attempt to avoid a full meltdown. They told Americans to stay at least 50 miles away from the plant.
"Growing uncertainty over the nuclear plant really spooked investors, promoting them to adjust positions and buy back the yen," said Masatoshi Sato, market analyst at Mizuho Investors Securities Co. Ltd.
"Foreign investors continued to dump stocks on growing fears over the nuclear accidents. Also investors are worried that the quake and the nuclear disaster could surely dent economic growth," Sato said.
Major natural disasters like earthquakes tends to bolster the yen because investors expect the Japanese public and insurance companies to buy back their home currency in order to fund the country's reconstruction, increasing demand for the yen.
Some analysts have said they expected the Bank of Japan to sell dollars in an attempt to weaken the Japanese currency if the dollar dropped below 80 yen. A strong yen hurts the Asian country's exporters, potentially deepening the already severe hit to the world's No. 3 economy from the multiple disasters.
The benchmark Nikkei 225 shed 2.1 percent to 8,903.86. The losses wiped out some of the gains from Wednesday's rally, which followed a sharp plunge the previous two days that erased all the stock market's gains this year.
Major benchmarks across Asia were also down, including Hong Kong's Hang Seng index, off 1.9 percent to 22,275.15, and South Korea's Kospi, down 0.8 percent to 8,943.69. Japan's broader Topix index dropped 2.2 percent.
Sectors across the board in Tokyo were dented.
Sony Corp., which has halted output at several factories — including one that makes Blu-Ray discs — was down 2.2 percent.
Toyota Motor Corp., the world's biggest automaker, which has halted production of cars, was down 3.6 percent.
Toshiba Corp., another company forced to shut factories after the quake, was down 5 percent. Tokio Marine Holdings Inc., a major insurer, was down 2.4 percent.
The post-quake plunge prompted extraordinary government efforts to reassure investors and keep markets functioning to support recovery. Japan's central bank has pumped cash into Tokyo's money markets for three days in a row, a total liquidity injection to 55.6 trillion yen ($688.3 billion) since Monday. The Tokyo exchange's president also publicly appealed for calm.
The index had shed more than 1,600 points, or 16 percent, Monday and Tuesday as worries over the nuclear crisis triggered widespread selling.