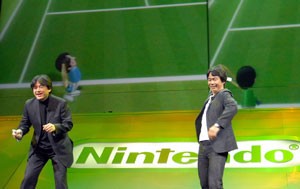 Legendary video game designer Shigeru Miyamoto (R) plays a round of tennis against Nintendo president Satoru Iwata using the new wireless 'Wii Remote' as a tennis racket during the Nintendo Media Briefing 09 May 2006
The world's biggest computer games show kicked off Tuesday with Japan's Nintendo and US giant Microsoft firing the first shots in the battle for the 25-billion-dollar global market.
The computer game titans were among companies from 90 countries that converged on the Los Angeles Convention Center for the glitzy Electronic Entertainment Expo (E3), which runs until Friday.
Nintendo's tuxedo-clad president Satoru Iwata unleashed a bold first salvo, grandly unveiling the company's new "Wii" console on the stage of the Kodak Theatre, the venue for the Academy Awards.
Iwata predicted the new "Wii" console with its nun-chuck-style controller would revolutionize gaming when it is released in the last quarter of 2006.
Shaped like a two-part television remote control and engineered with motion sensors and speakers, the "Wii" control enables users to guide game play by moving as if actually wielding swords, swinging golf clubs, or firing weapons.
Microsoft chief Bill Gates stepped on stage in the neighboring Grauman's Theater less than an hour later to boast the company would sell 10 million Xbox 360 consoles by the time its arch rivals got their new machines to market.
Gates told a standing-room-only crowd that Microsoft planned to capitalize on communal and mobile gaming trends by enabling players to link to Xbox consoles online via computers or mobile telephones.
Gates predicted that by this time next year, more than six million gamers would be connected to the Xbox Live entertainment network using PCs or mobile telephones with Microsoft computer operating systems.
Sony Corp did not weigh in at the conference with an opening day volley, but revealed from Japan that the price of its PlayStation 3 video game console would be at least 499 dollars in the United States and 62,790 yen (563 dollars) in Japan.
PlayStations have led the market, outselling competitors by more than four-to-one. Sony is counting on its strong edge to win the gaming race to reverse a slump in profits that prompted recent job cuts.
Sony is using its next-generation Blu-ray Disc technology in the PlayStation 3, banking that its cutting-edge games and home-entertainment abilities will justify its premium price tag.
Xbox retails in the United States for 299 dollars or 399 dollars with a hard drive.
Sony's next-generation console will go on sale in Japan on November 11 and in the United States and Europe on November 17, Sony Computer Entertainment, a unit of the Japanese electronics giant, said in a statement.
E3, billed as the world's premier interactive entertainment event, is in its 12th year and some 400 companies have come to tout their software, electronics and accessories in a cavernous space equal to 40 Olympic-size swimming pools.
E3 exhibitors will show off nearly 1,000 new games, according to event organizers.
Among the twists at the gaming gala will be the sudden star-power of the "massively multiplayer online role-playing game" (MMORPG) "Warcraft."
Unlike computer games pitting lone users against machine adversaries, MMORPGs are played online with people joining forces in armies of virtual warriors.
Teenage boys in California have shown a preference for enlisting in the "undead" army of zombies which join with trolls and orcs to fight dwarves, elves, gnomes, and humans.
Colleagues-in-arms can instantly message each other to coordinate attacks or defenses.
Warcraft was launched in November 2004 by Californian company Blizzard Entertainment. Blizzard recently reported having close to seven million Warcraft players, more than 900,000 of who are in Europe.
Microsoft and Sony Online Entertainment were both reported to be working on new MMORPGs, a gaming genre that dates back two decades to the days of "Dungeons and Dragons."
While the conference is for "trade only," hardcore gamers will mix with game designers beginning Wednesday at an exhibition with a high-tech carnival atmosphere rife with the latest gaming gizmos and software.
For those seeking even higher levels of video-game stimulation, there were "Sound Rockers", chairs rigged with speakers and other equipment to enable users to "feel all the action" and be awash in music and sound effects.
Gamers craving nostalgia had the option of daily "PAC-MAN" play-offs. The dot-chomping arcade game was the rage in the early years of video gaming.
Spurce: AFP