Business confidence among major Japanese manufacturers has improved for the first time in two-and-a-half years, the central bank's quarterly Tankan survey has shown.
The sentiment index rose to minus 48 in June from a record low of minus 58 in March. Market forecasts had been for a figure of about minus 43.
The increase was the biggest since June 2002, when the index jumped 20 points. It was the first improvement since December 2006, adding to hopes that the recession is easing.
The index measures the percentage of firms that think business conditions are good minus those that believe they are bad.
The result follows recent signs that Japan, the world's second largest economy, may be through the worst of its deepest recession since World War II.
The confidence index for major non-manufacturers improved to minus 29, from minus 31 three months earlier.
The Tankan found that big manufacturers expect sentiment to continue to improve, forecasting a confidence rating of minus 30 for September.
But they have downgraded their profit outlook, forecasting a 39.5 percent drop in pre-tax earnings for the current financial year to March. Three months earlier they had expected a 19.7 percent decline.
Before the current economic downturn began, Japan's corporate sector had been a key driver of a recovery in Asia's largest economy following the recessions of the 1990s.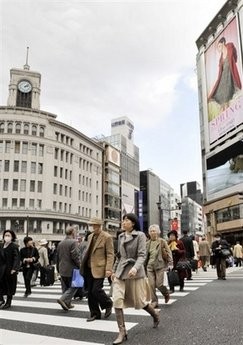 Pedestrians pass through Tokyo's Ginza district.
Now major exporters, many of which are deep in the red, are cutting back their investment in an effort to ride out the recession.
Large firms across all sectors plan to trim their investment in factories and equipment by 9.4 percent on average for the current fiscal year, the Tankan results showed.
Asia's biggest economy shrank at an annualised pace of 14.2 percent in the first quarter of 2009, the worst performance on record.
Experts say a full-fledged recovery is unlikely in Japan until demand picks up in major overseas markets such as the United States and Europe.
While hopes are mounting that the economy has come through the worst of its export and production slump, numbers released Tuesday showed Japan's unemployment rate rose to a more than five-year high of 5.2 percent in May.
The government has announced a series of economic stimulus packages, including cash handouts for households and incentives to buy fuel-efficient cars.