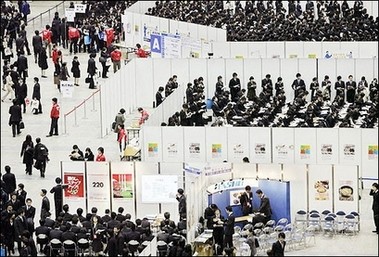 College students attend an employment exposition in Tokyo
Japan got a double dose of gloomy news on the economy with the unemployment rate rising to 4.2 percent in September from 4.1 percent in August and consumer spending falling sharply.
The figures added to concerns that the world's second-largest economy is losing momentum in tandem with the US economic juggernaut, although such worries were mitigated by a year-on-year decline in the jobless total.
Japan's jobless rate had hit an eight-year low of 4.0 percent in May as the economy continued a slow but steady revival after a decade in the deflation doldrums.
The figure is watched closely for signs of expanded hiring by companies and the positive knock-on effects on consumer spending. Analysts had on average expected a rate of 4.1 percent in September, unchanged from August.
In a separate report, the Ministry of Internal Affairs and Communications reported that average monthly household spending slumped by a bigger than expected six percent in September compared with a year earlier, declining for the ninth straight month.
The market had expected a drop of about 2.1 percent.
"Given the sustained fall in household spending due to the unwillingness of Japanese firms to increase pay levels and the slowdown in the pace of consumer spending, as well as worries over the trend of industrial output, the Bank of Japan may find it more difficult now than before to hike interest rates before the end of this year," NLI Research Institute senior economist Taro Saito said.
On Monday the government said industrial output declined by 0.7 percent in September from August and forecast a drop of 0.2 percent in October.
"While there still seems to be some possibility of a rate hike by the BoJ, the outcome of the next Tankan (business) survey due in December as well as next month's output data, among others, will be crucial to this prospect," Saito said.
The Bank of Japan announced as expected Tuesday that it had agreed to leave its benchmark interest rate unchanged at 0.25 percent where it has stood since July.
The central bank in July raised interest rates for the first time in almost six years, by a quarter-point to 0.25 percent, and has signalled it will move cautiously with further monetary tightening.
Analysts noted that the unemployment figures were not entirely gloomy.
The total number of unemployed fell by 50,000 from a year earlier to 2.80 million, down for the 10th consecutive month.
"The numbers of new employees and employers both increased," said Mitsubishi UFJ Research and Consulting analyst Tatsushi Shikano.
"I don't think the downward trend of the jobless rate will change," he added, predicting that household spending would also recover in the current quarter to December.