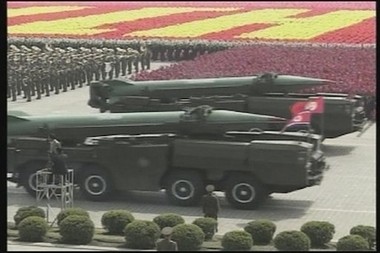 Missiles are carried during a massive military parade in Pyongyang on April 25, 2007 to mark the 75th anniversary of the Korean People's Army.
Democratic People's Republic of Korea (DPRK) fired several short-range missiles toward the Sea of Japan on Friday, Japanese media reported. Japanese Defense and Foreign Ministry officials said they could not immediately confirm the reports.
Japan's public broadcaster and other media, citing Japanese and U.S. sources, reported that the missiles were surface-to-ship.
NHK said the short-range missiles were fired on the east and west coast of the Korean Peninsula earlier Friday. Officials were investigating further details, including the number of missiles fired, the report said. NHK said the missiles were shorter-range, and were not DPRK's existing Rodong or Taepodong I ballistic missiles.
Japan's NTV network reported that the missiles were surface-to-ship.The broadcaster suggested that the North's test was in response to Republic of Korea's launch of its first destroyer equipped with high-tech Aegis radar technology on Friday.
RoK's Joint Chiefs of Staff said it was checking the report. The Defense Ministry had no comment.
But Yonhap news agency, citing an unidentified military source, reported that the South had confirmed the launches and was trying to identify the types and the number of missiles fired.
DPRK's missile development has been a constant concern to the region, along with its pursuit of nuclear weapons.
The DPRK's test-fired a series of missiles in July last year, including its latest long-range model, known abroad as the Taepodong-2, which experts believe could reach parts of the United States.
The North rattled the world again in October by conducting its firstever test of a nuclear device. However, experts believe it does not have a bomb design advanced enough to be placed on a missile.