Japanese troops could be allowed to train in Australian defence units, 66 years after the end of World War II, Prime Minister Julia Gillard was quoted as saying.
Gillard is in Japan for meetings with counterpart Naoto Kan and told the Weekend Australian newspaper she was open to the idea of Japan's soldiers gaining direct experience from their more combat-ready Australian peers.
While Japan's post-war military is restricted to self-defence and peacekeeping operations, Tokyo is reportedly keen to draw on the combat experience Australians have gained in East Timor, Iraq and Afghanistan.
The newspaper said the key reason was to be ready to respond to increased belligerence from China and the growing threat of North Korea.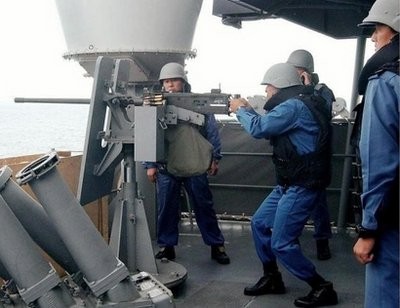 This file photo shows Japanese soldiers during an anti-terrorism practice at sea
Gillard said Australia had yet to receive a formal proposal, but she was open to the idea.
"We would need to work it through and see what request Japan might or might not make of us," Gillard said.
"We do have good links and partnerships at the moment and so we are looking to build on that with this vision of defence co-operation bilaterally for the future.
"We are in a region with reasons for defence co-operation."
Australia and Japan have already signed a resupply and cross-servicing pact that allows their forces to operate closely during disasters or peacekeeping operations, the report said.
The two sides are also reportedly eyeing a pact to share intelligence.
Gillard's comments come just days ahead of Anzac Day, a national day of remembrance in Australia and New Zealand for those who died in military operations for their countries.
She will spend the day, April 25, in South Korea to commemorate one of Australia's key military engagements of the Korean War -- the Battle of Kapyong.