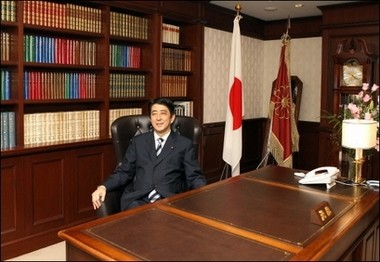 Mr. Shinzo Abe in his office (AFP Photo)
Japan's next prime minister Shinzo Abe has unveiled plans to centralize power and turn his office into a sort of White House, as a poll shows public doubts about his clout.
Abe, 52, will replace Mr. Junichiro Koizumi on Tuesday and become Japan's youngest prime minister. Mr. Abe plans to spend the weekend at a retreat near Mount Fuji to decide his cabinet lineup.
In a break with the past, the prime minister's office said it will appoint senior ministry officials to a policy team working directly under Abe that will take up issues of its choosing.
The move will sideline unelected bureaucrats, who have traditionally wielded heavy influence in Japanese politics.
"Some politicians see this is a step toward top-down policy-making, likening it to the White House staff in the United States," Yu Kameoka, the spokesman for the Prime Minister's Office, told AFP.
Abe has earlier said he plans to restructure the premier's office along the lines of the US National Security Council to quicken responses in a crisis and better coordinate with Washington, Tokyo's main ally.
Abe rose to prominence as a hardliner on neighbor DPRK.
He will be the first prime minister to be born after World War II and has called for Japan to shake off some legacies of its defeat. He has pledged to revise the US-imposed pacifist constitution.
Koizumi, who is Japan's longest-serving premier in three decades, has already boosted the role of the prime minister, handpicking telegenic ministers rather than picking candidates based on the basis of party politics.
Koizumi, a committed free-market reformist, also set up his own council of economic advisers, which held its last meeting Friday.
Deputy Chief Cabinet Secretary Jinen Nagase, the government spokesman, expected "many capable people would apply" to join the policy team in Abe's office.
"This is aimed at strengthening the prime minister's leadership in policy making," Nagase told a news conference.
The first poll published since Abe won a ruling party vote Wednesday to become prime minister showed that most Japanese voters support Abe but have doubts about whether the young leader can succeed.
Some 57 percent of voters approved of Abe's rise to the premiership, said a survey of 1,062 people by the Asahi Shimbun.
But only 29 percent believe that Abe will be a strong leader, compared with 53 percent who question his leadership skills. Other voters have yet to decide, according to the poll by the liberal newspaper, which has sparred with Abe.
Abe has said he favors "consensus" politics, a gentle rebuke to Koizumi, who appealed directly to the public and famously vowed to destroy his own Liberal Democratic Party, which has ruled through cozy ties with special interests.
However, an overwhelming 70 percent of voters doubt that the party, which has led Japan almost continuously since 1955, will change under Abe, with only 17 percent believing it will improve under his leadership.
Abe will announce his cabinet Tuesday. He met Friday with the caucus of the upper house of parliament and promised that at least two lawmakers from the chamber will get cabinet berths, news reports said.
Source: AFP